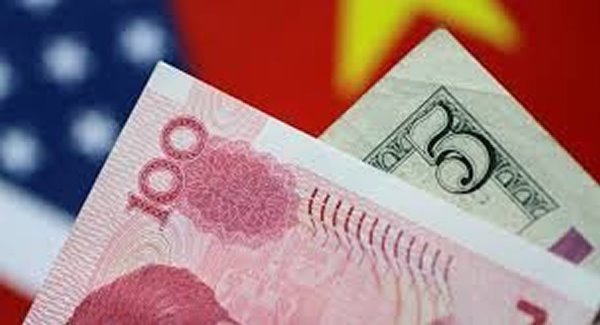 The value of export orders to the United States signed at China's largest trade fair dropped 30.3 per cent on the year.
The fall is caused by higher U.S. import tariffs that made goods from batteries to farm tractors costlier.
The steep fall in business with China's biggest trading partner was reported at the twice-a-year Canton fair, which ended on Sunday.
Fair exhibitors said they were pessimistic about next year's export outlook as the costs of raw material and labour rise, in addition to growing impact of trade friction with the United States, the China Foreign Trade Centre (CFTC) said.
The United States has levied additional tariffs of 10 per cent to 25 per cent on $250 billion of Chinese goods this year, as punishment for what it calls the country's unfair trade practices, with the 10 per cent tariffs set to rise to 25 per cent at year end.
"The overall impact on our battery industry will gradually show from next year on," Bill Ho, sales manager at BetterPower Battery Co in Shenzhen, told Reuters at the fair.
The company is considering expanding its export market beyond the United States to include the Middle East and other parts of Asia, Ho added.
Abell Lu, general manager at Motoma, a Chinese lithium battery producer that sells more than half its products to U.S. smartphone makers, said he was "extremely worried".
U.S. President Donald Trump and his Chinese counterpart Xi Jinping are expected to meet on the sidelines of the Group of 20 leaders summit in Argentina at the end of November.
If their meeting does not yield any progress in resolving the dispute, Trump can be expected to hand out more tariffs, further hitting China's already tattered export outlook.
"We've seen with the Trump administration so far that things can just switch overnight and that can make it very difficult to plan," said Tara Joseph, president of the American Chamber of Commerce in Hong Kong.
By industry, export orders in textiles and household appliances fell 13 percent and 6.7 percent, respectively, the CFTC statement said in its statement.
Overall export deals at China's biggest trade fair fell 1 percent to 206.5 billion yuan ($29.86 billion).
Export orders to Australia and Canada fell 8.9 percent and 7.3 percent, respectively, at the fair held in the southern province of Guangdong.
Source: Hellenic shipping news