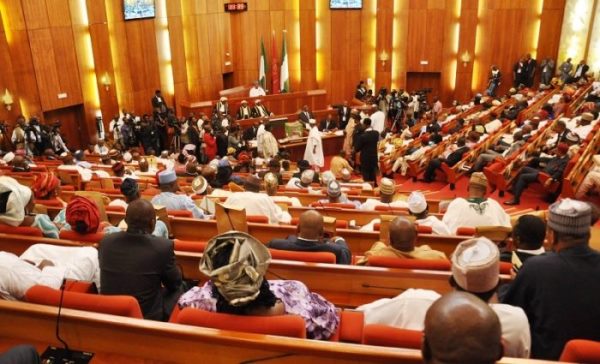 The $3.5 billion allegedly kept by the Nigerian National Petroleum Corporation (NNPC) for petrol subsidy payment is to be probed by the senate.
The Senate is also irked by claims of the Group Managing Director of the NNPC, Dr. Maikanti Baru, on the diversion of the dividends from the Nigerian Liquefied Natural Gas to maintain the N145-per-litre pump price of petrol by the NNPC.
The Senate had set up an ad hoc committee chaired by the Majority Leader, Senator Ahmad Lawan, to carry out the investigation.
Baru had, while appearing before the committee last week, said the NNPC had only spent $1.05 billion from the NLNG dividend account to defray the cost of "under-recovery" in the importation of fuel.
The President of the Senate, Dr. Olusola Saraki, told journalists at the Ilorin Airport, that he had received series of telephone calls on the issue from many concerned Nigerians.
He said the callers wanted to know the position of the Senate on the issues raised by NNPC's GMD before the Lawan-led committee.
Local media reports quoted a statement by the Special Adviser on Media and Publicity to the Senate President, Yusuph Olaniyonu, as saying that the Senate President noted that the disclosure by the NNPC boss in response to enquiries by the Senate panel called for further investigation by the Senate.
The reports added that Saraki stated that it also showed that, as alleged in a motion moved earlier by the Minority Leader, Senator Biodun Olujimi, "a lot of illegal and unapproved spending are going on in the petroleum corporation".