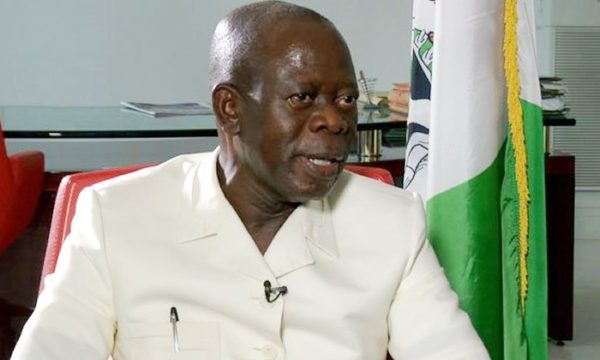 Less than five months in office, the 65-year-old National Chairman of the All Progressives Congress (APC), Mr Adams Oshiomhole, is in the storm. He has resurfaced and denied speculation of his arrest.
After the controversial party primaries, he kept off the radar and intermittently reported that some governors that lost out were planning to impeach him.
Oshiomhole was in the eyes of the storm as many bigwigs who lost in their bid to foist their preferred candidates on the party turned to accuse the chairman as an albatross.
Governor Rochas Okorocha of Imo is one of those calling for the head of Oshiomhome because his son-in-law lost the governorship ticket of Imo.
Governor Ibikunle Amosu of Ogun state also frequented the presidential villa in an attempt to reverse the state governorship primary which his candidate lost.
The governors, plus one other, are said to have started gathering signatures of their colleagues to pass a vote of no confidence on Oshiomhole.
Oshiomhole confirmed the plot of the governors, but on November 10, 2018, in Lagos denied that he was arrested by the Department of State Service (DSS).
He told journalists on Saturday in Lagos that he "saw DSS only once and it was a conversation, not an arrest or detention".
Oshiomhole was reacting to a report by online news platform TheCable which said the APC chairman was detained by the security agency earlier this week.
Giving an insight into what he discussed with the agency, the APC chairman revealed that the conversation centred around APC primaries.
He, however, said, "The question now is whether or not it is the DSS job to interfere in a political party's issues.
"And if there's an allegation of corruption, it is the responsibility of EFCC and ICPC."
TheCable had reported that Oshiomhole was detained and questioned for about nine hours by the DSS on Sunday.
It said that questioning followed allegations that the APC chairman received bribes during the party's primaries held across the country.
The online news platform added Oshiomhole was asked to resign his position.
Reports say that the governors launched a campaign to collect signatures to pass a vote of no confidence on Oshiomhole who was unanimously elected as the party chairman on June 23, 2018.