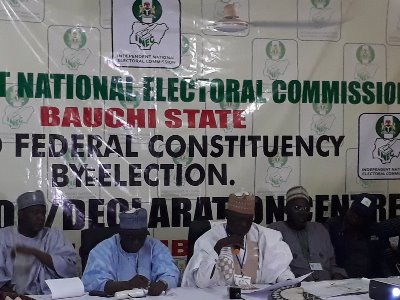 Following the release of Toro Federal Constituency (Bauchi) by-election held on Saturday, the opposition Peoples Democratic Party (PDP) has lost in all the three by-elections conducted nationwide.
All Progressive Congress (APC) won all the three elections into the House of Representatives on conducted on Saturday by Independent National Electoral Commission (INEC).
INEC on Sunday confirmed that Alhaji Yusuf Nuhu of APC won the Toro Federal Constituency by-election in Bauchi.
Announcing the result in Toro, the Returning Officer, Prof. Ahmed Sarkin-Paggam, said Nuhu scored 27,337 votes to defeat his only opponent, Shehu Umar, of the Peoples Democratic Party (PDP), who polled 18,235 votes.
The News Agency of Nigeria (NAN) reports that only APC and PDP fielded candidates for the elections.
According to the returning officer, a total of 41,532 votes were cast, out of which 40,552 were valid and 970 votes invalid.
Toro Federal Constituency seat became vacant when the member representing the constituency, Lawan Yahaya Gumau contested and won the Bauchi South Senate seat in a by-election held on Aug. 11.
INEC on Saturday night confirmed also confirmed Mr. Raheem Olawuyi, the candidate of APC as winner of the vacant House of Representatives seat for Ekiti/Irepodun/Isin/Oke-Ero constituency in Kwara state.
INEC's Chief Returning Officer for the poll, Prof. Abimbola Adesoji, said Olawuyi got 21,236 votes, followed by PDP candidate Saheed Alatise, with 18,095 votes.
The Labour Party had 150 votes, the Peoples Party of Nigeria (PPN) 76 votes and UPN 42 votes.
Professor Adesoji, from Obafemi Awolowo University, Ile-Ife, said out of the 40,930 total votes cast, the total number of valid votes was 39,599 while 1,331 votes were rejected.
INEC also declared Alhaji Abubakar Kusada of the APC as winner of the bye-election into the House of Representatives in Katsina state.
The election was conducted in the Kankiya/Kusada/Ingawa Federal constituency in Katsina state on Saturday.
The News Agency of Nigeria reports that Kusada was the speaker of Katsina state House of Assembly before his election today.
Prof Adedayo Hamza, the returning officer who announced the result on Saturday in Kankiya said Kusada scored 48,518 votes to emerge winner.
Alhaji Abdussamad Yusuf of PDP came second with 20,193 votes, while Nasiru Kankiya of the Peoples Redemption Party scored 1,810 votes as second runner-up.