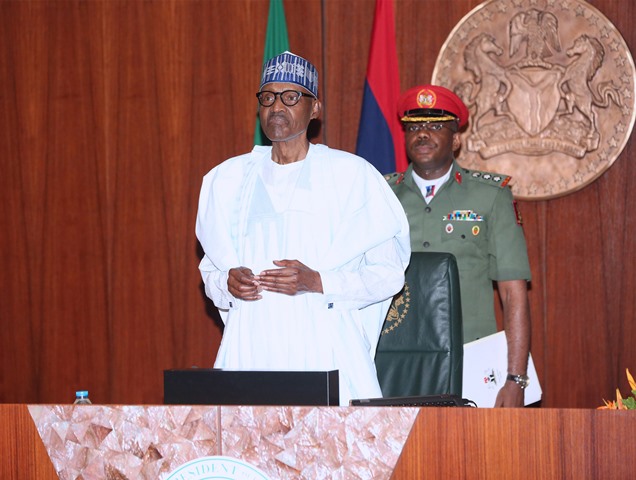 Governors are to meet President Muhammadu Buhari again to find a way out of the controversy surrounding a new minimum wage, just as Nigeria Employers' Consultative Association (NECA) calls for the implementation in January.
The governors on the platform of the Nigerian Governors Forum (NGF) are meeting with Buhari on Friday.
But the NGF Head, Media and Public Affairs, Mr Abdulrazaque Bello-Barkindo, told newsmen at the end of the meeting that the governors on Thursday and confirmed the resolved to meet the president.
"It was a very short meeting, of course the very last one for the year, the meeting welcomed the newest governor in its midst, the Osun state governor, Adegboyega Oyetola.
"The meeting resolved to meet the president on the issue of the minimum wage which hopefully will be resolved before the end of the year.
"The governors are also meeting the president tomorrow to thank him for the way he has handle the economy," Barkindo said.
The governors had offered to pay N22,500 while the federal government want to pay N24,000 against the N30,000 being demanded by the organized labour.
The forum at its last meeting set up a committee to meet with Buhari to canvass its position, which it stated was not reflected in the report of the Tripartite Committee submitted to the president.
Oyetola earlier in an interview with newsmen commended the meeting, saying it offered the governors opportunity to peer review each other and share experiences and best practices.
Some of the governors at the meeting were Edo, Lagos, Osun, Kaduna, Kwara, Kano, Plateau, Kebbi and Gombe States.
The governors of Bauchi, Benue, Adamawa, Rivers and Nasarawa were represented by their deputies.
Meanwhile, NECA has said Federal Government must conclude all legal processes for the implementation of the 30,000 minimum wage before Dec. 31, to ensure its implementation by Jan. 1, 2019.
NECA President, Mr Muhammed Yunusa, said at a briefing shortly after the associations' governing council meeting in Lagos on Thursday.
Yunusa said the N30, 000 minimum wage would lift workers' purchasing power.
"Payment of the agreed new minimum wage will increase total demand and ultimately stimulate economic activities.
"Government should be focused on how to broaden the nation's revenue base, ensure the viability of the states of the federation and curb or eliminate wastages," he said.
Yunusa said it is not uncommon to hear outcry of inability to pay by some employers but it is for each and every employer including government to focus inward to effect the necessary adjustment to be able to pay.
He said the ability to pay should not be an issue if there is efficiency, effectiveness and prudence in the administration of the government resources.