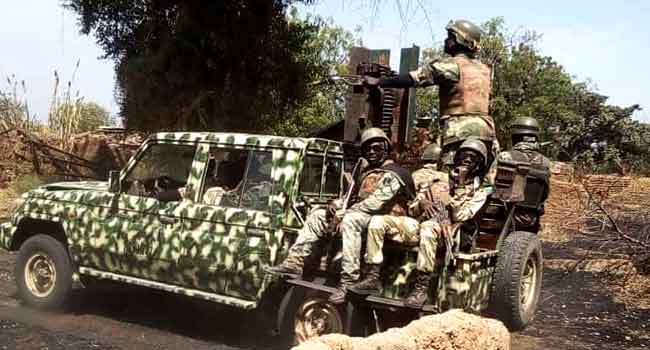 As voting in governorship election kicks off in Nigeria, heavy security presence and strict enforcement of movement restriction were noticed in Lagos on Saturday.
The residents who trooped out for the Governorship and the State Assembly elections were faced with stern-looking security officers in strategic locations.
Stern-looking soldiers manned many roads as early as 6 a.m to effect the restriction order.
This was unlike the Feb. 23 Presidential and National Assembly election, which had only a few areas blocked by the army officers. Drivers of commercial vehicles then exploited the loose security.
The soldiers shunned all appeals by almost all motorists to pass, as only officials of INEC and those on official duty were allowed to pass.
Some of the areas blocked include Abesan Gate, Ipaja, Moshalashi area, Alimosho, Idimu Road, Ikotun area among others.
The polling units opened at 8.00a.m.
At polling units 1 to 13 in Gowon Estate in Alimosho Local Government Area, INEC officials were seen as early as 6.45a.m with their election materials.
While some INEC officials were busy moving materials and personnel out of their various Registration Area Centres (RAC) at about 7.00 a m, some were found at their various polling units.