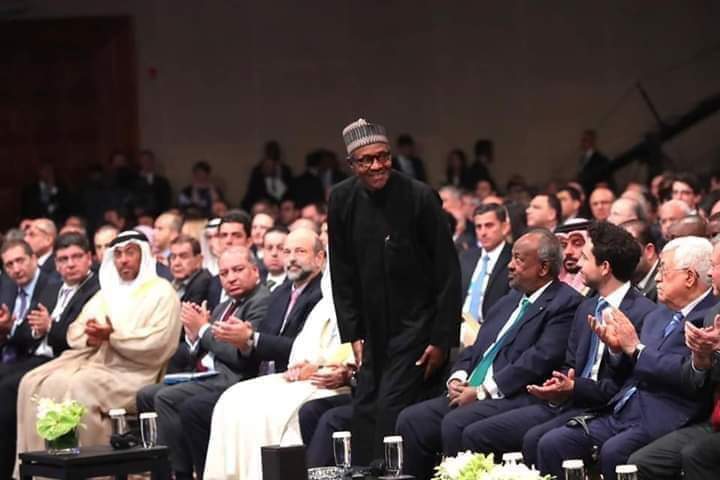 President Muhammadu Buhari would be sworn-in for a second term in office on Wednesday, May 29, 2019.
Buhari who emerged winner in the March Presidential election defeated former Vice President Atiku Abubakar by 15 million votes to 11 million votes.
No fewer than 30 governors would also take oaths of office on Wednesday.
Buhari contested election on the platform of All Progressives Congress (APC) while Abubakar defected from the party to contest on the ticket of former ruling Peoples Democratic Party (PDP)
Born on 17th December, 1942 in Daura, Katsina state, Buhari attended primary school in Daura and Mai'adua before proceeding to Katsina Model School in 1953, and to Katsina Provincial Secondary School (now Government College Katsina) from 1956 to 1961.
Buhari attended the Nigerian Military Training College (NMTC) (now Nigerian Defence Academy) in Kaduna.
He also had cadet training at Mons Officer Cadet School in Aldershot in England from 1962 to 1963, after which he was commissioned a second lieutenant and appointed Platoon Commander of the Second Infantry Battalion in Abeokuta.
From November 1963 to January 1964, Buhari attended the Platoon Commanders' Course at the Nigerian Military Training College, Kaduna.
In 1964, he facilitated his military training by attending the Mechanical Transport Officer's Course at the Army Mechanical Transport School in Borden, United Kingdom.
Buhari served as commander of the Second Infantry Battalion and appointed brigade major, Second Sector, First Infantry Division, April 1967 to July 1967.
Late Head of State, General Murtala Mohammed appointed Buhari as Governor of the North-Eastern State from 1 August 1975 to 3 February 1976.
He also briefly served as Governor of Borno state from 3 February 1976 to 15 March 1976.
In March 1976, the Head of State, General Olusegun Obasanjo, appointed Buhari as the Federal Commissioner (position now called Minister) for Petroleum and Natural Resources.
Buhari also served as General Officer Commanding, 3rd Armed Division Nigerian Army, from October 1981 – December 1983 in Jos.
In 1983, when Chadian forces invaded Nigeria in the Borno State, Buhari used the forces under his command to chase them out of the country, crossing into Chadian territory in spite of an order given by President Shagari to withdraw.
He ousted Alhaji Shehu Shagari and his National Party of Nigeria (NPN) from office on 31 December 1983 and he too was kicked out on 27 August 1985 by Gen. Ibrahim Babaginda.
He contested presidential elections in 2003, 2007 and 2011 and failed.
He was the candidate of the All Nigeria People's Party (ANPP). He was defeated by the People's Democratic Party nominee, President Olusẹgun Ọbasanjọ, by a margin of more than 11 million votes.
On 18 December 2006, Gen. Buhari was nominated as the consensus candidate of the All Nigeria People's Party. His main challenger in the April 2007 polls was the ruling PDP candidate, Umaru Yar'Adua.
In March 2010, Buhari left the ANPP for the Congress for Progressive Change (CPC), a party that he had helped to found.
Buhari was the CPC Presidential candidate in 16 April 2011 general election, running against incumbent President Goodluck Jonathan of the People's Democratic Party (PDP).
In December 2014, he emerged as the presidential candidate of the All Progressives Congress for the March 2015 general elections which he won to oust incumbent President Goodluck Jonathan.
This marked the first time in the history of Nigeria that an incumbent president lost to an opposition candidate in a general election.
He battled serious health problems.
President Buhari on Sunday, May 7, 2017 left Abuja for London in continuation of his treatment for undisclosed ailment, confirming early speculations during electioneering that he was unfit.
Speculations from high quarters had it that the retired General General, had terminal ailment but the party gave him a clean bill of health.
But shortly before his inauguration on May 29, 2015, President Buhari went for a short medical check-up in the UK.
Bubbling with life immediately after he was sworn-in, Buhari embarked on massive trips to over 30 countries to forge diplomatic relations, solicit assistance on war against corruption and insurgency
President Buhari demonstrated vigour and healthiness throughout the duration of the trips.
A timeline shows that he visited Niger Republic, Chad, Germany, South Africa, Cameroon, Benin Republic, France, United States, Benin Republic, Ghana, India, Iran, United Arab Emirates, Kenya, Ethiopia, Egypt, Norway, Saudi Arabia, Equatorial Guinea, China, and a host of other countries.
With the dexterity demonstrated to lift the country, especially to drive his agenda of security, anti-corruption, employment generation and agriculture, the devil himself would doubt that the President had a terminal ailment.
"I have never been so sick all my life,'' President Buhari himself confessed on his return from a 51 day medical vacation in London.
It really dawn on him that the body was becoming weaker by the day.
His remarks confirmed notable Nigerians' prediction that he was really in trouble with his health.
In what appeared to be a minor health challenge, President Buhari travelled to London on June 6, 2016 to treat his ear (Meniere disease).
He had earlier spent five days in Germany to attend to his health before going to the UK where he spent over 51 days to restore his failing health which generated hullabaloo in the polity. He left Abuja for London on January 20, 2017 and returned on March 10.
Since his returned to Nigeria, President Buhari has only been able to attend one Federal Executive Council (FEC) meeting, fuelling fears that his health had deteriorated, though his aides explained he was on resting based on medical advice.
At the last FEC meeting held on April 26, 2017, information and culture minister Lai Mohammed told the nation that Buhari was going to work from home that day.
His health has however improved and bubbling again with life to extend of embarking on jogging during his visit to Saudi Arabia for Umar in May 2019.