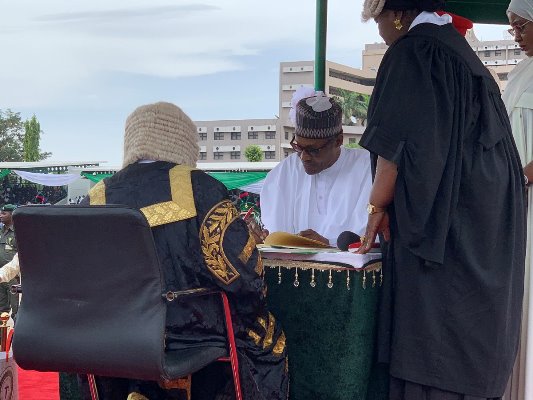 President Muhammadu Buhari and his Vice, Prof. Yemi Osinbajo have been sworn-in for a second term in office exactly four years after they took the oath of office to commence their political journey.
76-year-old ex-military leader and the 62-year-old Senior Advocate of Nigeria (SAN) on Tuesday declared their assets and indicated that they did not add anything new to the assets they declared in 2015.
The oath of office was administered by the Acting Chief Justice of Nigeria (CJN), Justice Ibrahim Tanko Muhammad at the Eagles Square in Abuja.
The ceremony preceded the hoisting of the national and defence flags to signify the commencement of the new dispensation. The hoisting of the flags also heralded the 21 gun salute.
Also 29 out of the 36 governors of Nigeria also had their oaths of office as the nation looks forward to celebrate democracy day on June 12.
Buhari, a chieftain of All Progressives Congress (APC) emerged winner in the March Presidential election, beating former Vice President Atiku Abubakar of opposition Peoples Democratic Party (PDP) by 15 million votes to 11 million votes.
The inauguration of Buhari went ahead even though Abubakar had challenged the outcome of the election at the Election Petition Tribunal.
Born on 17th December, 1942 in Daura, Katsina state, Buhari attended primary school in Daura and Mai'adua before proceeding to Katsina Model School in 1953, and to Katsina Provincial Secondary School (now Government College Katsina) from 1956 to 1961.
Buhari attended the Nigerian Military Training College (NMTC) (now Nigerian Defence Academy) in Kaduna. He also had cadet training at Mons Officer Cadet School in Aldershot in England from 1962 to 1963, after which he was commissioned a second lieutenant and appointed Platoon Commander of the Second Infantry Battalion in Abeokuta.
Late Head of State, General Murtala Mohammed appointed Buhari as Governor of the North-Eastern State from 1 August 1975 to 3 February 1976.
He also briefly served as Governor of Borno state from 3 February 1976 to 15 March 1976.
In March 1976, the Head of State, General Olusegun Obasanjo, appointed Buhari as the Federal Commissioner (position now called Minister) for Petroleum and Natural Resources.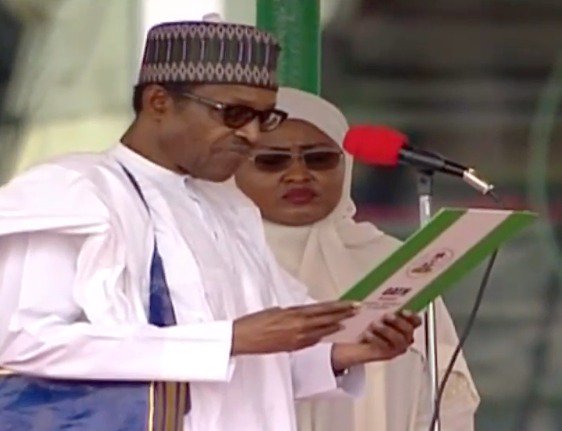 Buhari truncated the democratic government of Alhaji Shehu Shagari and his National Party of Nigeria (NPN) on 31 December 1983, assumed military head of state and was too was kicked out on 27 August 1985 by Gen. Ibrahim Babaginda.
He contested presidential elections in 2003, 2007 and 2011.
He was the candidate of the All Nigeria People's Party (ANPP). He was defeated by the People's Democratic Party nominee, President Olusẹgun Ọbasanjọ, by a margin of more than 11 million votes.
On 18 December 2006, Gen. Buhari was nominated as the consensus candidate of the All Nigeria People's Party. His main challenger in the April 2007 polls was the ruling PDP candidate, Umaru Yar'Adua.
In March 2010, Buhari left the ANPP for the Congress for Progressive Change (CPC), a party that he had helped to found.
Buhari was the CPC Presidential candidate in 16 April 2011 general election, running against incumbent President Goodluck Jonathan of the People's Democratic Party (PDP).
In December 2014, he emerged as the presidential candidate of the APC for the March 2015 general elections which he won to oust incumbent President Goodluck Jonathan.
Before becoming the Vice President in 2015, Osinbajo, a lawyer served as Commissioner for Justice and Attorney General of Nigeria's most populous and commercial nerve centre, Lagos from 1999 to 2007.
This marked the first time in the history of Nigeria that an incumbent president lost to an opposition candidate in a general election.
His 2019 Presidential inauguration by the Acting Chief Justice of Nigeria (CJN), Justice Ibrahim Tanko Muhammad was witnessed by his political foes, including Senate President Bukola Saraki and Speaker of House of Representatives, Hon. Yakubu Dogara.
While Saraki would not return to the senate in June when the National Assembly would be inaugurated, Dogara would no longer hold his office as his new party, PDP, no longer hold majority in the House.