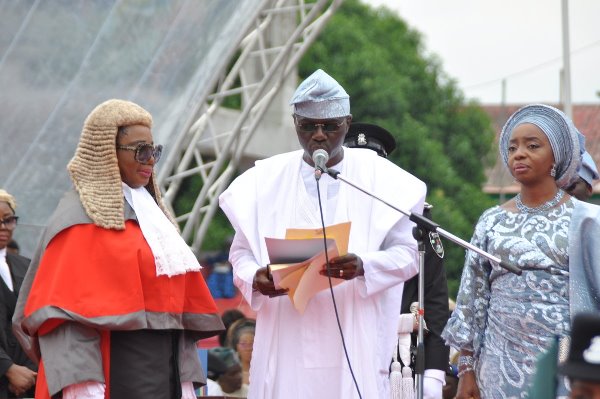 The new Executive Governor of Lagos, Mr Babajide Sanwo-Olu, has assured the electorate of the sanctity of their votes.
The governor who took over from Mr Ambode said: "By the grace of Almighty God and your votes, today marks the beginning of a new chapter in our journey to greatness.
"Today, I ask you to join me on this journey to awaken a Greater Lagos.
"The Babajide Sanwo-Olu you see today will remain true. I will not change unless it's to a version that will serve Lagos better.
"Today, I vow as your Governor that I will serve with my utmost ability and commitmentWith your help, I know we can make Lagos greater Indeed, our best days lie ahead of us. God bless the Federal Republic of Nigeria, God bless Lagos State
"The hearts and hands of the Deputy Governor, Mr Femi Hamza and myself are extended to each and every Lagosian. Join us on this noble journey as we strive together to birth and nurture a Greater Lagos.''
He said that their ultimate goal would be to ensure that Lagos state remained one of the top destinations on the African continent to live, work and invest in.
"My administration will ensure that we walk the talk as far as transparency, the rule of law and fiscal discipline are concerned. We will make sure that we create the right environment in which security and safety of lives and property are guaranteed.
"While one cannot help but hear the kind words of friends, I must pay even closer attention to the voice of my critics. In constructive criticism lies the seeds of improvement.
"My door shall remain open to all. I shall seek the advice of the learned, the wise and the ordinary Lagosian, for in the common man resides much wisdom.
As I said in my acceptance speech, I am too focused on moving Lagos forward to give a second thought to where a person may have come from.
As long as you are animated by the spirit of achievement, cooperation and tolerance, then you are Lagosian.
My goal is to advance the social and economic progress of this state and its people; regardless of your faith, social class, or your origin of birth.
As long as you adopt the spirit of Lagos, Lagos in turn shall adopt you.''
There was heavy security as Sanwo-Olu took his oath of office
The ceremony took place at the Tafawa Balewa Square (TBS).
Scores of security personnel, comprising soldiers, policemen and officers of the Nigerian Security and Civil Defence Corps(NSCDC) were seen manning strategic positions around the venue.