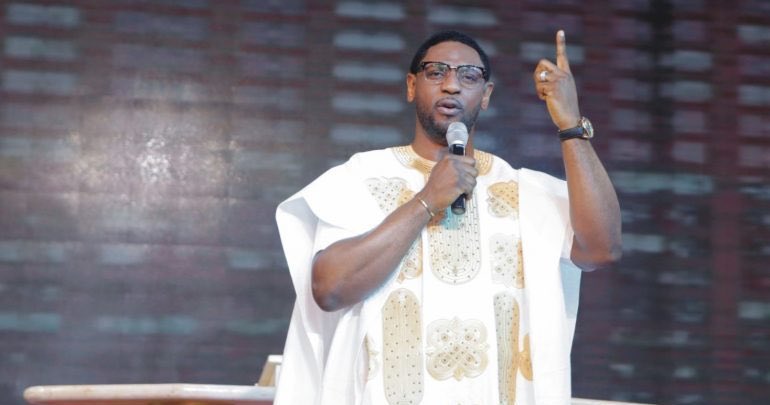 As more women emerge to tell the tale of how they were molested, Nigerians are mobilising to stage a protest against randy Pastor Biodun Fatoyinbo, of Commonwealth of Zion Assembly (COZA).
The a #ChurchToo protest is being organized over the recent rape allegation against the pastor.
The proposed protest followed a flyer and notice of protest which has been circulated on twitter and other social media urging Nigerians to converge for a protest march on Sunday.
Pastor Biodun was recently accused by Busola Dakolo, wife of artist Timi Dakolo of raping her when she was 17 and working as a member of the choir in his church.
Meanwhile, the pastor has denied the allegations against him by Mrs Dakolo.
However, many Nigerians have taken to social media Twitter to call out the COZA pastor to stabd tria and clear his name while others have resorted to the proposed protest march to call out the pastor.
The protest according to the flyer is against all supposed men of God who 'hide under the church to commit atriocities' is to hold at 8:00 AM at the COZA church complex.
The flyer reads in part: "If you are outraged by the alleged sexual abuses perpetrated by pastors and so-called 'men of God', join us for a protest march to COZA Church Abuja.
Reactions have continued to trail the proposed protest with some twitter users supporting and signing up for the protest while others kicked against it. Others users also used the medium to share their horrific experiences while others just condemned pastors who assaulted members.
The Pastor has denied the allegations coming from different quarters as more than 30 women have indicated to testify against him.
The police in Abuja have said they would require a formal complaint of wrongdoing against him.
Police commissioner Bala Ciroma said that the police usually require complaints from victims or witnesses or both to proceed with rape charges.
"They should file a formal complaint," Mr Ciroma said. "And then the police can see how to proceed from there."
The spark of the crisis was raised by Busola Dakolo, popular photographer and wife of musician Timi Dakolo.
She narrated how ministers in the Commonwealth of Zion Church (COZA), Ilorin, begged members of her family to cover up her alleged rape by Biodun Fatoyinbo, overseer of the church.
She made the revelation of the cover-up while speaking with Chude Jideonwo, co-founder of Red Media on Friday.
Dakolo said after her family found out that Fatoyinbo was abusing her sexually, they confronted him after which two ministers in the church accompanied him to beg while pinning the blame on the devil.
Fatoyinbo has since denied the allegation in a post on Instagram saying, "I have never raped before."
Dakolo said, "My brother was angry so he took a pocket knife and dragged me to His (Fatoyinbo) house. Immediately he saw my brother and I coming, he (Fatoyinbo) quickly came out of His house and said Busola! Busola! What's the matter?
'Be Happy A Man Of God Disvirgined You', Busola Dakolo, Wife of Timi Dakolo, Narrates How Pastor Biodun Fatoyinbo Raped Her
"My brother's name is Tunde, he was very mad and told Fatoyinbo, I am going to stab you and kill you, what did you do to her?
"He (Fatoyinbo) started begging saying I'm sorry, I don't know what came over me was just the devil. At that time someone was around, a minister Wole, He is the pastor of the Port Harcourt branch now. Then he wasn't a pastor, he was a minister in church like prayer minister so he said we should all go to my house.
"My brother and I went back home and then they came to our house and called another minister. He (Fatoyinbo) started begging saying he didn't know what came over him, I just stood there and couldn't say anything.
"Meanwhile the minister who was Wole Soetan and another minister Flow (Folarin Ogunsola) who is my second cousin.
They talked and begged me but I wasn't listening to anything they were saying because all that was on my mind is that I cannot get back my virginity because it's been done and the way I think right now, you don't know my state.
"I told my brother then that I want to leave the church because I wasn't listening to the word anymore and I told Wole that I want to leave the church. He too when he heard said he was going to leave the church."