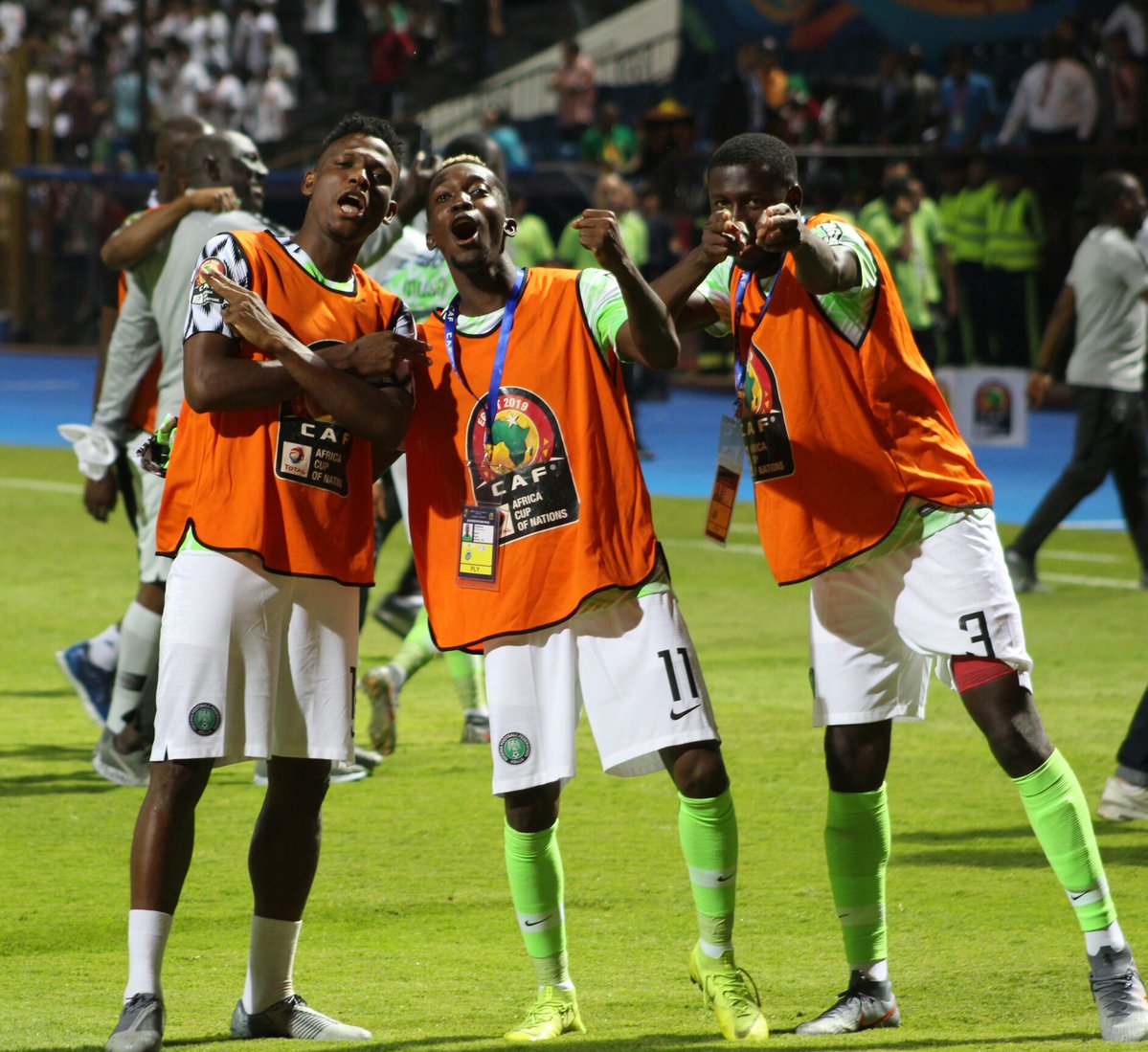 Super Eagles defeat of Cameroon to move a step further in the ongoing Africa Cup of Nations (AFCON) in Egypt is uplifting.
Nigeria's Senate President Ahmed Lawan and some football fans have hailed the team for its comeback win over the Indomitable Lions of Cameroon.
Super Eagles soared into the quarter finals of the 2019 AFCON in Alexandria, coming from behind to beat Cameroon 3- 2, thanks to Odion Ighalo's brace and another goal from Alex Iwobi.
Whereas hosts Egypt crash out of 2019 AFCON after a late Thembinkosi Lorch goal gave South Africa a 1-0 win in Cairo in a Round of 16 clash.
The 1996 champions will now meet three-times champions Nigeria on Wednesday in the quarter-finals.
Elated Lawan felicitated with Super Eagles for beating Cameroon.
Lawan said the victory which advanced Nigeria to quarter-finals of the tournament was well-deserved considering the high skills and dexterity exhibited by Super Eagles.
"Coming behind, after taking the lead, to beat Cameroon reinforced what our Eagle are known for; never to be counted out until the final whistle.
"This victory could never have come at a better time than now when Nigeria is desperately looking for a unifying act.
"Your victory today as usual has brought all Nigerians irrespective of the divide to stand solidly behind you in prayers and encouragement."
He urged the players not to relent until they achieve final victory by winning their subsequent matches.
Some football fans noted that it was a sweet comeback win for the Super Eagles.
They, however, noted that there was still room for improvement in the team.
Bolu Olaosebikan, a public servant, said the boys were better going forward, but need to show more quality in the defensive department.
"What a comeback, nice one. I loved the attacking flair displayed by the boys
today.
"They showed great fighting spirit to come back after going down 1-2 in the first half. Nice goals from Ighalo and Iwobi but we need to improve in the defence," he said.
Daniel Onyemelukwe, a businessman admitted that it was a close contest, adding that, however, he could hardly fault the performance of the team.
"Congratulations on the win. What a performance by the team. We must, however, admit that it was a close contest. We played against a Cameroonian side that hadn't conceded a goal in the competition prior to this game.
"We must also remember that they were the defending Champions. So, we cannot fault the boys too much. " I think we need more strikers in the team as only one man cannot do it alone.''
Femi Oyelade, an entrepreneur, said that he was happy that the boys were able to redeem image of the country after the shambolic display against Madagascar.
The Deputy National Chairman of Sports Writers Association of Nigerian (SWAN), Umar Said, said that the Super Eagles still needed to address some lapses to clinch the trophy in the ongoing African Cup of Nations.
"I am happy as a Nigerian that Nigeria defeated Cameroon 3-2, but I have a lot of concern about their performances. My major concern is that we have a lot of homework to do, especially our defence line because the goals scored by the Camerounians was as a result of defensive blunders."
He faulted the Centre Referee for not cautioning some of the players that were ungentlemanly on the field of play.