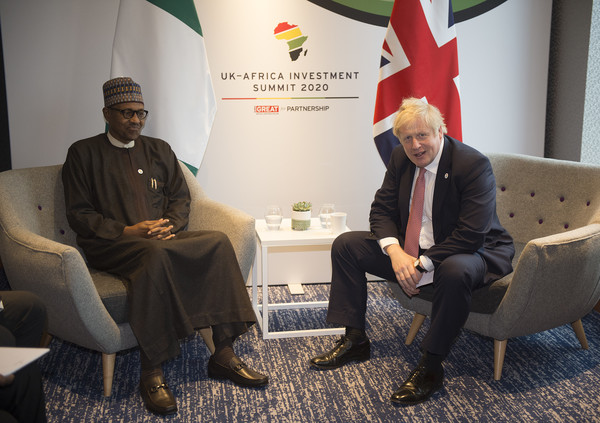 The plan negotiation of future relationships on trade and immigration by United Kingdom and European Union (EU) will impact on UK's other allies, especially Nigeria.
The UK's exit EU on January 31, 2020 has with it an eleven-month transition period (expected to end December 31, 2020) in which both parties will arrive at concrete decision on trade, immigration and the like.
During this period, the UK remains a member of the single market and customs union.
UK, lately indicated interest to strengthen trade, investment and economic partnership with African countries, particularly Commonwealth nations like Nigeria.
This informed the maiden UK-Africa Investment Summit, in which the UK is seeking a comprehensive synergy with Africa to deepen trade and investment relations, notably in infrastructure and clean energy.
Nigeria is one of the UK's biggest trading partners in Africa and the trade relations between the two countries have grown considerably over the years.
According to the official data from the National Bureau Statistics (NBS), the trade volume between both countries in 2016, 2017 and 2018 stood at US$2.2 billion (N663.5 billion), US$2.6 billion (N786.1 billion) and US$3.4 billion (N1.03 trillion) respectively.
Between January and September 2019, both countries traded US$2.24 billion (N684.3) billion worth of goods with each other.
Nigeria's exports to the UK are dominated by oil products and the UK's exports to Nigeria comprise machinery, manufactured goods, chemicals and food products.
The UK is currently a major source of investment inflows to Nigeria, accounting for US$9.7 billion of total US$19.7 billion attracted between January and September 2019 (though most of this investment are FPIs), which is 49% of the inflows over the period.
According to Dr Muda Yusuf, the Director-General of Lagos Chamber of Commerce and Industry, Brexit presents an opportunity for both nations to strengthen bilateral trade relations given that they have historical and cultural links, shared language, similar time-zone, and high-skilled manpower.
In an interview with APA, he said there is prospect for more active support from the UK Export Finance (UKEF) and Nigeria's NEXIM bank.
"More importantly, it is an opportunity for Nigeria to attract quality investment from UK.
"However, investment decision is purely a business decision. This underscores the significance of creating an environment that offers good returns on investment in order to leverage the opportunities that BREXT offers.
" Capital would gravitate to locations where returns on investment are most attractive and where the investment climate inspires confidence.''
He said that it was imperative to fix key structural, policy and regulatory issues impeding the inflow of FDIs into the Nigerian economy.
Yusuf said that diaspora remittances have become an important source of foreign exchange inflows into the Nigerian economy, currently estimated at over $20 billion.
"Brexit potentially has an impact on diaspora remittances depending on the consequential migration policies that comes with it.
"If the policies are friendly, there are prospects for increased remittance flows to Nigeria from the UK. On the other hand, if the UK adopts stricter migration policies, it could result in a decline in this important source of revenue for Nigeria.''
He said there were more than 200,000 thousand Nigerians currently in UK, which is also a major source diaspora remittance.
For Dr Lukman Oyelami, Department of Economics, University of Lagos, Distant Learning Institute, Brexit sends a bad signal to the active adherents of globalization and it is not a good news for many emerging and developing economies including Nigeria.
He said that initiative affords the Britain to pursue independent economy and trade policies independent of the European Union.
Britain as one of the biggest importer of Nigeria's crude and in recent times, may turn the table.
"Nigeria's little trade surplus with UK may cease by time the Britain starts pursuing independent trade policies.
"Also, Britain is one of the leading advocate of green economy and this may affect their demand for Nigerian crude oil.
"Another perspective to this is that Nigeria has a huge population of its citizens working in Britain and sending huge remittances back to the country. Brexit may affect their status and ability to secure a paid jobs and this will have negative consequences on the remittances.''
In spite of the flowery outcomes of the recently concluded UK-Africa Investment Summit, the full glare of the benefits to Nigeria could only be determined after summation of the outcome of UK-EU trade and immigration talks.