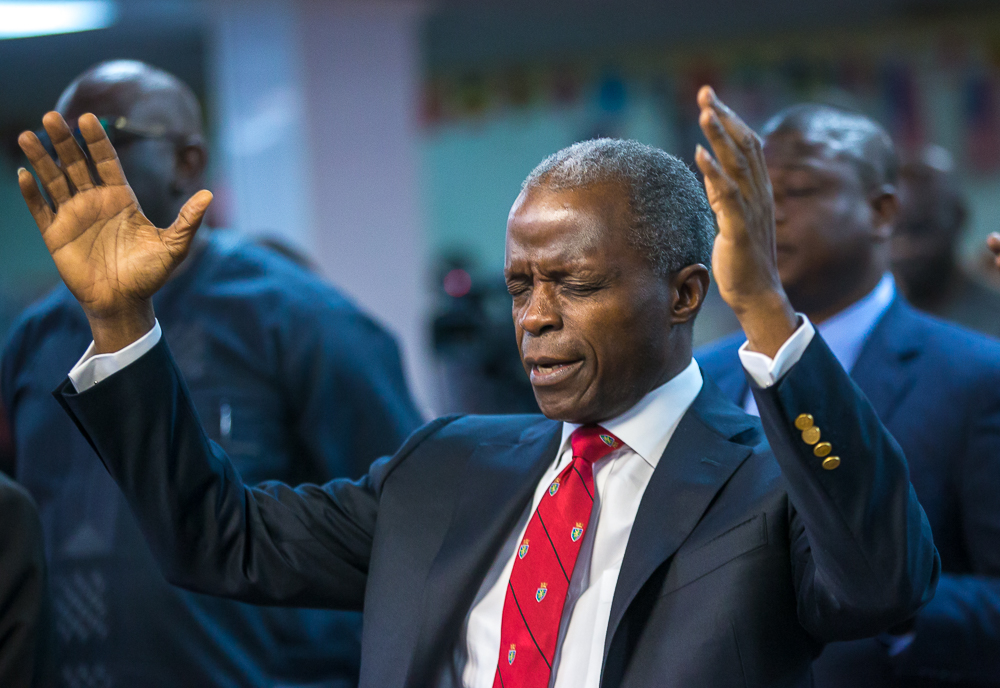 Vice President Yemi Osinbajo, who was born on March 8, 1957, has clocked 63 years.
Osinbajo, who survived a helicopter crash in Kogi on Feb.2, 2019, won re-election on Feb. 23, 2019 for another four year term with President Muhammadu Buhari.
Nigeria's 5th Vice President, Osinbajo is the Chairman of the National Economic Council which deliberates on economic planning and programmes of the various tiers of government.
The vice president attended Igbobi College, Lagos, University of Lagos (UNILAG) from 1975 to 1978, and London School of Economics and Political Science.
He was Attorney General and Commissioner for Justice in Lagos State between 1999 and 2007.
Osinbajo worked as a Professor of Law at the University of Lagos for many years; he was also a Senior Partner with SimmonsCooper Partners, a commercial law practice.
He is also a Pastor of the Redeemed Christian Church of God (RCCG).
Osinbajo and his wife Dolapo Osinbajo have three children.
Northern Governors Forum(NGF) has joined governors from the South to congratulate Osinbajo.
Chairman of the forum and Gov. Simon Lalong of Plateau in a statement by his Director of Press and Public Affairs, Dr Makut Macham on Sunday, described Osinbajo as a unique gift to the country.
Lalong said Osinbajo was outstanding, as seen in his tenacity and patriotism in his service delivery to the country, saying the gesture had contributed immensely in uplifting Nigerians.
"As chairman of the National Economic Council, Osinbajo has shown his deep knowledge and understanding of the challenges facing the Nigerian economy as well as deployed his versatility, team spirit and mobilisation skills in advancing practical solutions to its improvement.
"The vice president has shown total loyalty not only to President Muhammadu Buhari, but to the nation by giving reliable counsel and carrying out his assignments with excellence,"he said.
The chairman lauded the vice president's passion for liberation of the poor through strategic empowerment programmes, which had created jobs for many Nigerians and improved the capacity of Micro-Medium and Small Scale Enterprises to deliver its statutory functions.
Lalong said that the northern governors forum in particular, had been enjoying cordial working relationship with the vice president, as he had supported efforts toward reducing poverty.
He said the input of Osibanjo was significant, in tackling the challenges of Almajiri System, improving agricultural development, tackling insecurity as well as ending the farmer herder clashes.
He prayer for God to continue to grant the vice president more years of peace, good health and prosperity, while urging him to continue offering his wisdom and knowledge to the growth of Nigeria's democracy and the enhancement of Nigeria's ruling party, the All Progressives Congress (APC).
The Pentecostal Fellowship of Nigeria (PFN) also greeted Osinbajo on his birthday.
The association thanked God for his life and the indelible contributions he is making to the development of the nation and the church in Nigeria.
The National President, PFN, Rev. Felix Omobude in a statement on Sunday described Osinbajo as an Ambassador for the Christian community, who is presently on national assignment.
"We are proud of how he has continued to discharge his duties with the sense of humility, wisdom and dignity required of such high office.
"We appreciate the grace of God upon his life and the work he is doing for our nation.
"Our prayer for him is that he will continue to stand strong to the true dictates and tenets of the faith.
"He would not be lacking in terms of vision and courage to stay true to his beliefs, Omobude said.
According to him, the association wishes him many more years, in good health and vitality, and greater impact in his service to fatherland, now and in the future.