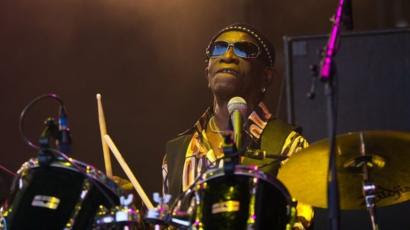 By Mohammed Momoh
79-year-old Tony Allen, the maestro drummer to late Afrobeat Fela Anikulapo-Kuti, has died in Paris of heart attack.
Yeni Kuti, daughter Anikulapo-Kuti, said the music industry has lost one of its most iconic drummers.
Kuti described the late Allen, who died on Thursday, as a fantastic drummer who the Nigerian up-and-coming drummers ought to learn from due to his good mastery and wealth of knowledge in drumming.
She said Allen's death was shocking, adding that the drummer would be greatly missed globally.
" Tony Allen's death is a shocking one; the drumming world will miss him because he was really a rare gem.
" It is unfortunate that he is not here to teach the younger ones the discipline of drumming, as drumming takes lots of discipline, patience and could be very exhausting.
" He came to Fela when he was very young, he benefited a lot for playing for Fela and he worked with Fela for 14 years.''