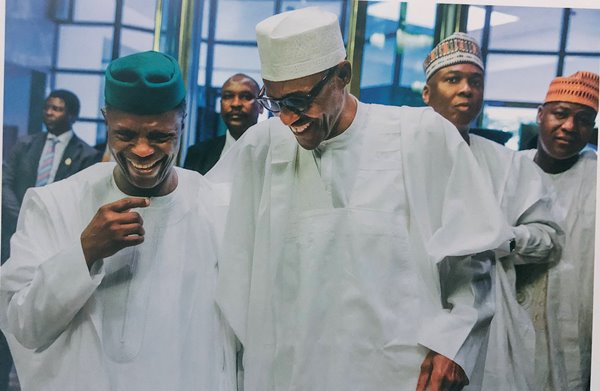 By Mohammed Momoh
As Nigeria celebrates Democracy Day and 21 years of uninterrupted civil administration, President Muhammadu Buhari, has unveiled his stewardship on his pivotal agenda of security, economy and corruption.
In a national broadcast on June 12, 2020, Buhari said that aside being a day to honour the founding fathers of Nigeria, the Day provides an opportunity to reflect on the journey as a nation – "our achievements and struggles''.
Democracy was restored in Nigeria in 1999 after decades of military rule, and President Buhari becoming the fourth civilian president after Olusegun Obasanjo, Shehu Musa Yar'Adua and Goodluck Jonathan.
Celebrating democracy day amidst increasing cases of coronavirus pandemic of more than 15,400 cases and 391 deaths, Buhari said that sustaining "our democracy'' had been a collective struggle, but in spite of the daunting challenges, Nigeria had recorded notable achievements.
Progress, said had been recorded in the efforts to stabilise the macro-economy, achieve agricultural and food security, ensure energy sufficiency in power and petroleum products, develop infrastructure, fight corruption and improve governance.
"We have witnessed eleven quarters of consecutive GDP growth since exiting recession. The GDP grew from 1.91% in 2018 to 2.27% in 2019 but declined to 1.87% in the first quarter of 2020 as a result of the decline in global economic activities due to the COVID-19 pandemic,'' Buhari told the nation.
Specifically, he revealed that the nation's external reserves grew from $33.42 billion in April to about $36 billion in May, 2020, enough to finance seven months of import commitments and also reported that agriculture remained the key to the economic diversification strategy.
The government was revamping the cotton, textile and garment sector through the Textile Revival Intervention Fund domiciled at the Central Bank of Nigeria (CBN) that would considerably reduce foreign exchange spent on cotton and other textile imports.
"Through the food security initiative, we are promoting "Grow What We Eat" and "Eat What We Grow". I am also delighted that more and more Nigerians are taking advantage of the opportunities in the agriculture and agri-business sector,'' he said.
Buhari said that more than 5,000 Agro-Rangers and employed 30,289 personnel in para-military agencies have been deployed to protect farming investments.
He heartily reported that efforts to grow the non-oil exports have started yielding results and that Africa presents a huge opportunity for Nigeria's export base diversification, especially with strategy to grow intra-Africa trade through the Africa Continental Free Trade Area Agreement.
Nigeria, he said, has risen by 25 places on the World Bank's Ease of Doing Business ranking from 146th to 131st and is now rated as one of the top ten reforming countries.
"This development is due to the Visa on Arrival policy, consistent promotion of initiatives that expand facilities available to Micro Small and Medium Scale Enterprises, robust electronic registration and payment system, seamless processing of business registration and reduction of cost of registering business by 50%. We are confident that on-going efforts would result in further improvement of this rating.''
In the nation's commitment to expand its mining sector, he said he had directed the resuscitation of the Ajaokuta Steel Plant based on Government-to-Government and a Public-Private Sector financing. The plant build by Russia had been abandoned for more than 40 years after hitting 98 per cent completion.
"We would also launch a fully digitized mineral rights management platform for quick processing of mineral rights application, digitization of records and plugging revenue leakages,'' he said.
In an encourage tone on the inadequate and epileptic electricity supply, he noted the importance of the power sector to industrial development, reported that an agreement had been signed with Siemens to transmit and distribute a total of 11,000 Megawatts by 2023.
He said: "We are growing the stock and quality of our road, rail, air and water transport infrastructure'' to improving economic competitiveness.
Ending insurgency, banditry and other forms of criminality across the nation, he said had been being accorded appropriate priorities and Nigeria has considerably downgraded such threats across all geo-political zones.
All the Local Governments that were taken over by the Boko Haram insurgents in Borno, Yobe and Adamawa have long been recovered and were now occupied by indigenes of these areas who hitherto fled their homes.
He urged states and local governments to revamp their intelligence assets so that the Security Agencies could nip in the bud, any planned attacks in remote rural areas.
As part of the strengthening of our internal security architecture, police affairs ministry he said was been created and the National Command and Control Centre expanded to nineteen states as well as resuscitated the National Public Security Communication System.
Nigerian Police Trust Fund has been established as a public-private sector vehicle for alternative sources of funding security activities.
`To reduce security challenges through our external borders,"we introduced operation Ex-Swift Response, closing our borders since August 20th 2019, explaining that the action considerably succeeded in meeting its objectives as well as improving national revenue.
In the fight against corruption, he said that government has continued to implement accountability and transparent policies through the Open Government Partnership and the transparency portal on financial transactions.
Anti-Corruption agencies have secured more than 1,400 convictions and also recovered funds in excess of $2.6 billion since 2015, he said
In order to continuously grow democracy, he said: "We will continue to guarantee freedom of the press as we place high premium on responsible journalism that is devoid of hate speech, fake news and other unethical professional conduct.''