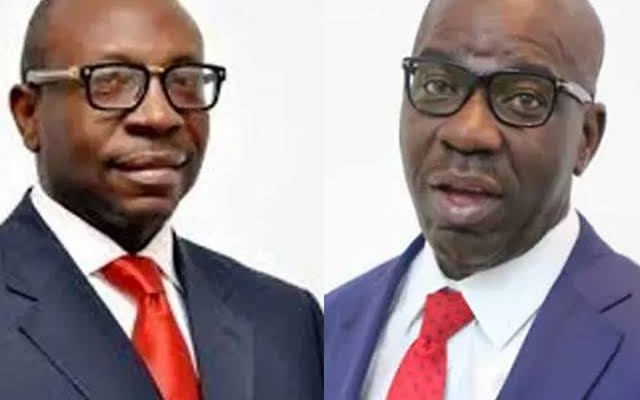 Another wave of resignations from the cabinet of Edo Governor Godwin Obaseki has unsettled his bid for second term in favour of his opponent, Pastor Osagie Ize-Iyamu.
Obaseki is so troubled that he has resorted to threatening members of his cabinet to fall to line, but the threat remained futile.
The situation has forced the State Media Campaign Council of the All Progressives Congress (APC) for the Edo Governorship election to deride and mock the governor.
The council has described Obaseki as a "drowning'' man as more aides tender their resignations to pitch tent with Ize-Iyamu.
Latest among those who dumped the governor are Hon. Joe Okonigene and Hon. Aimiolemen Noah Idemudia, also known as Paddy Noah.
The Chairman of the APC State Media Campaign Council, Mr. John Mayaki, reported: "Godwin Obaseki is a drowning man who is unwilling to take responsibility for his failure.
His aides have since realized that his ship is a drowning one, that he has been rejected by the people, and so they have been abandoning him in droves.''
Apparently referring to the mass resignation from Obaseki's cabinet, Mayaki said: "Obviously, this development puts him to shame. His attempt to block these resignations through brute force and holding them hostage had little or no effect. They stared down his barrel and called his bluff."
"So in a bid to live with the failure until September when his disgrace will be complete and perfected, he directed his Chief Propagandist, Crusoe Osagie, the media aide who has been rendered witless and reduced to a common fake news peddler by the inertia and desperation of the man he serves, to spread the baseless and hare-brained narrative that Captain Hosa and Comrade Oshiomhole are offering his aides money in exchange for their resignation."
"The question to ask Obaseki is: how much was offered to his Chief of Staff, Taiwo Akerele, who resigned as far back as April when Mr. Godwin Obaseki was still living in the fool's paradise that a second-term was his birthright even in the face of monumental failure as a Governor?"
"Upon Taiwo Akerele's resignation, Obaseki tried to scare other aides who had already drafted their resignation letters into submission by invading the young man's residence with his thugs and other armed officers seeking to illegally apprehend and intimidate him. But that fear has worn off, hence the new wave of resignations."
"To attribute this to Captain Hosa Okunbo, who for reasons best known to him Obaseki has declared an enemy despite his many contributions to his administration and the State, and to spin the fallacious report that Oshiomhole has also paid money to anyone are indications that the Governor may be suffering an early trauma from the impending embarrassing defeat in September."