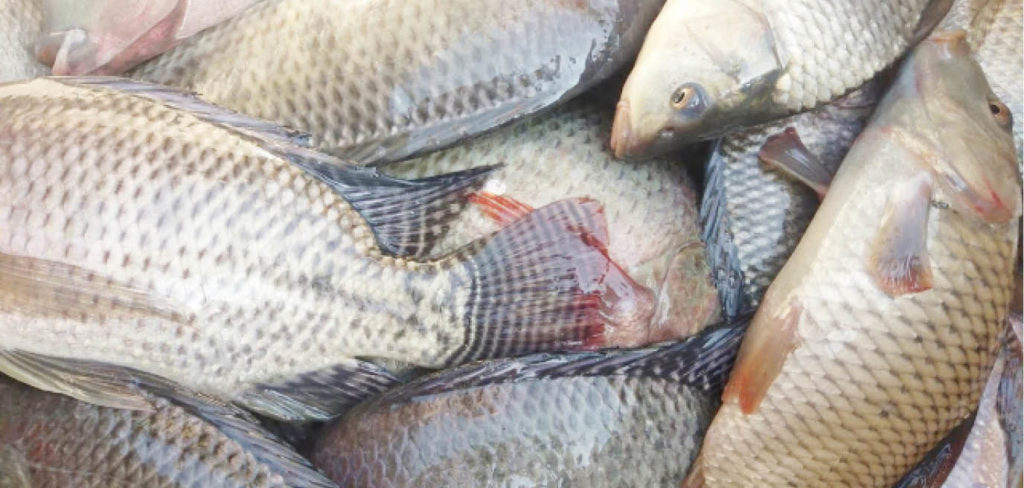 By Mohammed Momoh
Nigeria with a coastline of 853 kilometres that is bordering the Atlantic Ocean in the Gulf of Guinea, cannot harvest fish to feeds its people.
In spite of the advantage of the huge resources, the country is supplementing its annual fish need through importation.
The total annual demand is estimated at 3.32 million metric tonnes against 1.12 million metric tonnes produced locally.
The deficit of 2.2 million metric tonnes is largely supplied through importation, a document titled, a paper on "Fisheries Crime Activities in West Africa Coastal Region," of INTERPOL Environmental Security Sub-Directorate, reports.
(file:///C:/Users/MOHAMMED%20TANKO%20MOMOH/Downloads/INTERPOL%20Study%20on%20Fisheries%20Crime%20in%20the%20West%20African%20Coastal%20Region%20EN%20(4).pdf)
The paper reports that Nigeria in 2018 imported fish worth $344 million from Iceland, Russia, Norway, Netherlands, United States, Mauritania, Algeria and Mauritius.
The country imports fish varieties, including mackerel, herrings, horse mackerel, blue whiting, Argentina silus and croaker which are reported to be abundant in the country but are harvested by dominant illegal trawlers.
According to Fisheries Committee for the West Central Gulf of Guinea (FCWC), Nigeria loses more than $60 million annually to illegal fishing carried out by Chinese and other Asian fishing trawlers.
A survey carried out by the West Africa Task Force of Fisheries Committee of West Africa (FCWA) indicates that over 37 per cent of all fish caught in West Africa are caught illegally with China, Taiwan, Russia, South Korea, Spain, France and Thailand being the main countries responsible.
Nigeria's former President of Nigerian Trawler Operators Association, Mrs Margaret Orakwusi, confirmed reports that more than 400 industrial vessels from China, Hong Kong and Taiwan had dislodged Nigerians and other fishing trawlers.
China alone is alleged to account for 220 of the illegal fishing vessels plundering fish in the Gulf of Guinea in restricted areas, ignoring quotas and international rules by catching prohibited species.
Aside illegal fishing, piracy, oil spills and other environmental hazards have also combined to inhibit the harvesting of fish to meet demand.
Prof. Chioma Nzeh of the Department of Zoology, University of Ilorin, said many marine and coastal ecosystems are close to collapse due to Illegal, unreported and unregulated (IUU) fishing, also known as pirate fishing.
Thousands of fish farmers in the oil rich Niger Delta region, comprising Rivers, Bayelsa and Akwa Ibom states have been thrown out of business due to pollution by oil companies and sea poisoning.
According to the National President of the National Fish Association of Nigeria (NFAN), Dr Gabriel Ogunsanya, the alien poisoning and oil spills have caused massive fish and aquatic life mortality in the creeks and coastline water.
Findings in July 2020 of a multi-agencies of the Federal Government on the subject concluded that the death of tonnes of fishes along the Atlantic Ocean coastline in Nigeria was caused by the discharge of toxic waste into the ocean.
Mr Idris Musa, Director-General of National Oil Spills Detection and Response Agency (NOSDRA), reported that the high toxicity of the dead fishes and water samples was caused by pollution from heavy metals from industrial and domestic wastes discharged from domestic and industrial sources on land.
The Executive Director, Health of Mother Earth Foundation (HOMEF) an environmental NGO, Mr Nnimmo Bassey, said: "We were pleased that the National Oil Spill Detection and Response Agency (NOSDRA) took samples of the dead fish, sediments and water from some of the affected areas, for analysis after series of outcry from community people, CSOs and other groups.''
Mr Furoebi Akene, spokesman of the communities alleged Shell Petroleum Development Company (SPDC) discharged toxic wastes from the Forcados Export Terminal which affected Atlantic coastline in Delta, Bayelsa, Rivers and Akwa Ibom and resulted in massive death of croaker fish, raising concerns of increased toxicity of the territorial waters.
Mr Bamidele Odugbesan, the Media Relations Manager of Shell Petroleum Development Company (SPDC), says the Dutch oil firm operating in the region, is cooperating with the Senate the allegation.
Fishing communities have also decried the high level piracy and insecurity on the region's waterways.
Mr Fidelis Ebirien, Chairman of Oyorokoto High Sea Fishermen in the coastal area, said decried activities of sea pirates.
"Consistent attacks on the fishermen by sea pirates have endangered fishing business, which is our main source of livelihood,'' and explained that fishermen were exposed to pirates' attacks almost on a regular basis since 2014.
"Almost on a daily basis, we have continued to lose our fishing equipment such as boats and engines to these pirates,'' he said.
As the fishing impediments persist, some local fishermen have started taking the laws into their hands to curtail illegal trawling activities. In May 2020 some 10 locals hijacked a Chinese fishing vessel, FV Hai Lu Feng II, belonging to one Haina Fishing Company.
The fishermen were arrested and charged for allegedly committing an illegal act of violence against the crew by putting them in fear.
However, Nigeria's Defence Headquarters also reported that Maritime component of the Armed forces had continued to hit hard on criminal entrepreneurs and arrested fishing trawler in the maritime domain.
The Acting Director, Defence Media Operations, Brig.-Gen. Bernard Onyeuko, said on September 3, 2020 that the Nigerian Navy Ship in Delta had deployed patrol teams, and were patrol and started to arrest fishing trawlers operating in Nigerian waters without its Automatic Identification System (AIS).
The Acting Command Information Officer, Eastern Naval Command, Calabar, Lieutenant Godwin Sampson said: "Navy is doing a lot to make sure all the illegalities on our waterways are curtailed or completely curbed."
Nigeria has also rolled-out a five-year plan to bring to an end, waivers given to foreign vessels trading on the nation's waters.
Mr Gambo Ahemed, Director of Cabotage and Labour Services of Nigeria Maritime Administration and Safety Agency (NIMASA), said that Nigeria would begin with a two year plan to end waivers to fishing trawlers.
Ahemed said: "The whole idea is to have a succession plan that will midwife a full blown cabotage regime that will be of benefit to Nigerians instead of the foreigners that trade on our waters.''
The Minister of Agriculture and Rural Development, Mr Sabo Nanono, has also reported that government has started to encourage local production to stop fish importation in 2022.
He told National Fish Association of Nigeria (NFAN) in Abuja that time had come for Nigeria to look inward to tap into the huge potential in fisheries and aquaculture for local consumption and export.
Reporting that more than one million licenses had been issued to local trawlers, he said: "In the next years, we will not allow importation of fish into the country.''