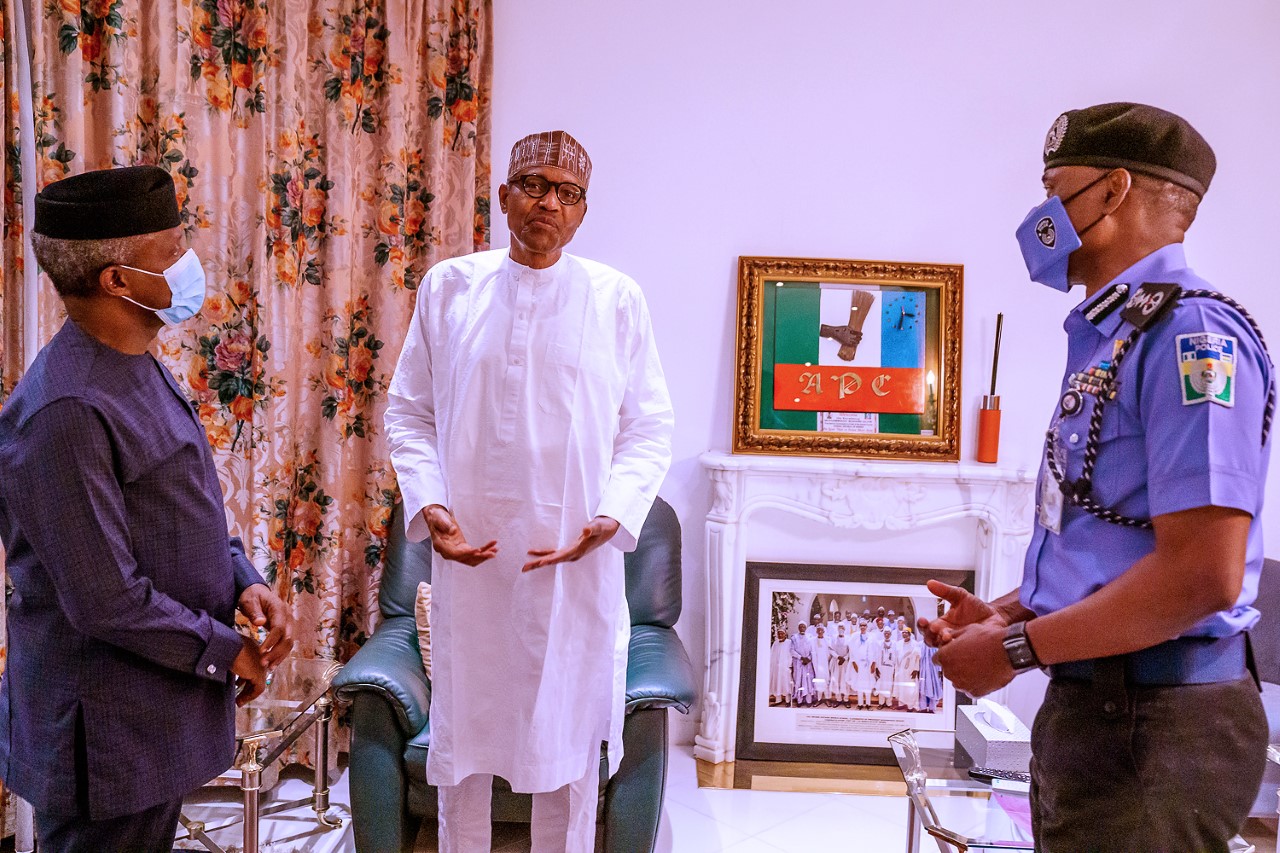 The protest against brutality and extortion of the Special Anti-Robbery Squad (SARS) of the Nigeria police continued in Abuja on Sunday, October 11, 2020, necessitating police's reaction with tear gas and water cannon.
Early comers converged at the unity fountain where they started marching to police headquarters in Abuja and met the resistance of police.
The protests are similar to the one across several US cities over extra-judicial killing and police brutality.
The spreading protests were ignited following rage on social media after a video of the alleged killing of a young man in the Ughelli in Delta state by SARS and other atrocious behaviour of some members of the 30,000 man squad.
Protests are ongoing in Federal Capital Territory (FCT), Lagos, Delta, Edo states and many other cities even as police hierarchy rolls out measures to clink the wings of SARS personnel and assuage protesters.
Many allegations have been raging against the squad which was inaugurated in 1992 as a small unit of the police to fight robbery, kidnapping and high profile criminalities.
The squad has burgeoned and spread across the country with officers dressing like touts and untidy, wielding raffles menacingly to intimidate citizens. They have been accused of molestation, extra-judicial killing, illegal arrest and high level of extortion.
Aside the Ughelli's fatal incident last week, one other narrative of Amnesty International Nigeria is one of the numerous vexatious issues.
A motor mechanic, simply called, Chima, was arrested because the police thought he stole the car which he was fixing. The owner of the car came forward to confirm to the police that the mechanic was his trusted mechanic for years.
The police released the car to the owner and kept torturing Chima till he died.
Another report that infuriated the public was the arrest of Miss Ifeoma Abugu by SARS operatives at Lokogoma in Abuja on 10 September, 2020. She died in the custody but the police had no answers on the circumstances surrounding the death.
Personnel of SARS have also been accused of taking their victims to banks to withdraw cash from ATM for bribe. Some SARS personnel are reported also to be carrying POS machines while on patrol. They use the POS to collect money from their victims.
The notoriety of SARS has caused the naming of its detention centre in the Abuja as "abbatoir'' because it is located in a former butcher's yard.
"Some suspects detained in "abbatoir" rarely come out alive,'' report by Amnesty International (AI) Nigeria.
In its report on Saturday, AI said police's torture is a stain on society that must be addressed with clear orders to law enforcement officers not to inflict torture or other ill-treatment on detainees under any circumstances.
"Repeatedly, Nigerian authorities failed to end atrocities of SARS. This is hardly surprising when many of these officers have bribed their way to SARS in the first place. The police chiefs in charge are themselves entwined in the corruption.''
The #EndSARS protests did come as a surprise as there had been series of warnings and advice to the police to carry out reforms and stop the brutality against Nigerians.
"Our calls for an end to atrocities of Nigerian Police were ignored by authorities. On 18 September 2014 we launched "Welcome to Hell Fire" a report on torture by Nigerian security forces,'' Amnesty state
Mr Atiku Abubakar, a business mogul, politician and presidential candidate of opposition Peoples Democratic Party (PDP) in the 2019 election on October 10, 2020 commended the tenacity of the youths who have stayed out on the streets all day and night to make their voices heard.
"Protests are an essential part of any democracy as we have seen the world over, and should be seen as an opportunity for dialogue between our people and our leaders.''
Deputy President of the Senate, Ovie Omo-Agege, also expressed dismay over the atrocious activities of SARS, especially the incessant cases of extrajudicial killings and harassment and extortion of citizens.
"Those who are authorised to carry arms and maintain law and order in the country ought to understand that such must be exercised with responsibility, especially when human life is sacrosanct.''
The protests continued on Saturday in Abuja despite the placating new rules rolled by the Inspector General of Police, Mr Mohammed Adamu, including banning SARS personnel from interfering in civil matters.
They have also been forbidden from cyber-crime and also not allowed to conduct a stop and search unless there is a distress call from victims.
"They are not allowed to be involved in commercial matters such as debt recovery, landlord-Tennant issues; not allowed to interfere in any social /relationship cases (marital matters, boyfriend / girlfriend relationship).
They have been strictly restricted to combat of robbery and kidnapping and made it mandatory for the personnel to wear name tags and force number.
Meanwhile, President Muhammadu Buhari met with Vice President Yemi Osinbajo and the IGP on the night of October 9, 2020 to find a solution to the problem.
"I met again with the IGP tonight. Our determination to reform the police should never be in doubt. I am being briefed regularly on the reform efforts ongoing to end police brutality and unethical conduct, and ensure that the Police are fully accountable to the people,'' Buhari reported.
He said he had instructed the IGP to conclusively address the concerns of Nigerians regarding these excesses and ensure erring personnel were brought to justice.
"I appeal for patience and calm, even as Nigerians freely exercise their right to peacefully make their views known.''
He said that the vast majority of men and women of the Nigeria Police Force are patriotic and committed to protecting the lives and livelihoods of Nigerians, and will continue to support them to do their job.
Protesters being blasted water at the #EndSARS protest currently ongoing in Abuja #EndPoliceBrutalityinNigeria #EndSARSProtest #EndSarsNow pic.twitter.com/zClYOFRjeJ

— Nigeria Customs Broadcasting Network (@ncbn_ng) October 11, 2020