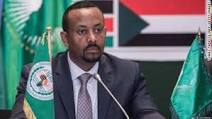 By Tamba Jean-Matthew III
The African Union (AU) has reaffirmed its commitment to continue working with people and the government of Ethiopia during the armed conflict with Tigray separatists.
A statement issued by AU at the end of a two-day visit of its envoys to the Ethiopian leader Abiy Ahmed on Friday, said the envoys' visit was on the initiative of the South African President Matamela Cyril Ramaphosa, in his capacity as the Chairperson of AU "to support Ethiopia during in challenging period.
The envoys included Mr Joaquim Alberto Chissano, former President of the Republic of Mozambique; Mr Kgalema Motlanthe, former President of the Republic of South Africa; and Mrs Ellen Sirleaf-Johnson, former President of Liberia.
It was the first mission of its kind to Ethiopia that held from 25 – 27 November 2020 since the Ethiopian conflict began nearly a month ago.
Briefing the envoys on the current military operations, Ahmed said that "the operation, which is essentially of law enforcement nature, would not last long".
He added that the situation will operationalize the Multiparty Provisional Administration of Tigray to enable service delivery.
The Nobel Peace laureate assured the international community of his "unwavering commitment to create a democratic Ethiopia that is inclusive without domination or repression of one group by another".
The Prime Minister also reiterated his commitment to dialogue.
The AU statement issue to the media further said the that 'Multiparty Provisional Administration of Tigray' also briefed the AU Envoys, but did not provide details.
By Tamba Jean-Matthew III