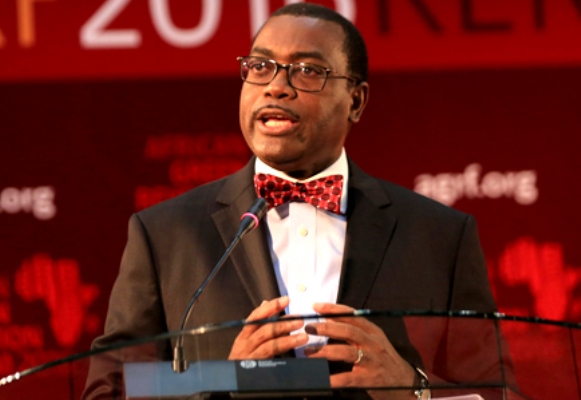 By Tanko Mohammed
The African Development Bank (AfDB) says it plans to support the development of Special Agro-industrial Processing Zones (SAPZs) on the continent.
President of the bank, Dr Akinwumi Adesina said this at the 5th Annual Meeting of the Africa Economic Zones Organisation (AEZO) held in Tangier, Morocco.
The meeting was held in a hybrid format (physical and via zoom application) and in conjunction with Africa Continental Free Trade Area (AfCFTA) Business Forum.
SAPZs are combined development initiatives designed to concentrate agro-processing activities within areas of high agricultural potential to boost productivity, integrate production, processing and marketing of selected commodities.
Adesina said: "Five SAPZs are already in implementation, including Ethiopia's integrated agro-industrial parks, Togo's Agro-food processing zones, and in Senegal and Guinea.
"Several more are planned."
He said the zones would focus on agro-industrialisation by investing massively in integrated infrastructure in areas of high potential agricultural value chains included processing, marketing and logistics.
He noted that the SAPZs would contribute to unlocking vast economic and trade opportunities from value-added agriculture in Africa.
The bank's president emphasised that regional SAPZs would also consolidate integrated infrastructure and agricultural processing and food manufacturing companies around regional transport corridors.
"This will allow for economies of scale by taking advantage of regional infrastructure, transport and logistics for lowering costs and enhancing competitiveness," he said.
The News Agency of Nigeria (NAN) reports that in August 2019, AfDB identified 14 sites for the proposed SAPZs in Nigeria cutting across the six geopolitical zones of the country for inclusiveness.
Also, in February, the bank expressed support for the implementation of the SAPZs project in the country with 300million dollars.
Earlier, Adesina highlighted the contributions of Special Economic Zones globally, noting that they had powered economic growth of several countries.
"Collectively, they have contributed exports worth 3.5 trillion dollars, roughly 20 per cent of global trade in goods.
"In Africa, special economic zones are operating in 38 countries, accounting for annual trade turnover of 680million dollars," Adesina said.
He, however, said that the zones had not been that successful in Africa compared to Asia and other parts of the world for several reasons.
He said that this was due to limited infrastructure, weak institutional environment and coordination challenges, as well as limited access to financing to develop well-integrated value chains.
Adesina further said that the focus of the zones on exports alone had weakened the linkages with the wider local economy, very limited transfer of skills, technology and market access.
He said the bank was investing in closing the infrastructure gap which included energy, roads, ports, ICT and transport corridors.
He said Special Economic Zones needed to focus on the regional markets in Africa to allow the development of its manufacturing capacity and competitive regional value chains.
The development, he noted, would be for exports into the AfCFTA and to expand their integration into global value chains.
The bank's president, however, expressed the commitment of the bank to help accelerate private sector investments into Africa.
"You all as members of the Africa Economic Zones Organisation will play a very important role in making the new Africa happen.
"The AfDB commits to specifically work with you to expand your investments, and specially to help develop the SAPZs across Africa.
"Working together we will help Africa to grow back, better, bolder and with greater prosperity," he said.
The theme of the meeting was "The Role of Economic Zones in supporting the implementation of the AfCFTA and Regional Integration".