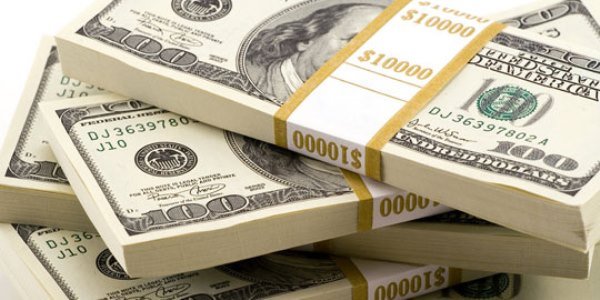 Mohamed Tanko
In a continuous deliberate strategy to attract inflow of dollars and cut outflow of foreign exchange, the Central Bank of Nigeria (CBN) has initiated "Naira-for Dollar'' incentive, offering N5 for every $1 sent from overseas by Nigerians.
The Trade and Exchange Department of the apex bank released the incentive in a circular in Abuja on March 5, 2021 that specified that the incentive would last within the next 60 days.
All Deposit Money Banks (DMBs), International Money Transfer Operators (IMTOs) and members of the public, have been directed to comply with the new scheme to sustain the anticipated increase in inflows of Diaspora remittances.
According to the incentive, all recipients of Diaspora remittances through the CBN licenced IMOs, shall henceforth be paid N5 for every $1 received as remittance inflow.
"In light of this, the CBN shall, through commercial banks, pay to remittance recipients the incentive of N5 for every $1 remitted by the sender and collected by a designated beneficiary.
"This incentive is to be paid to recipients, whether they choose to collect the dollar as cash across the counter in a banker or transfer same into their domiciliary account.
"In effect, a typical recipient of Diaspora remittances will, at the point of collection, receive not only the USD sent from abroad but also the additional N5 per USD received.
"Please note that having discussed with banks and IMTOs, the scheme takes effect from Monday, March 8 and ends on Saturday, May 8, 2021," the circular stated.
Aside latest move to further promote increase in Diaspora remittances , CBN had in December 2020, directed commercial banks to begin the Diaspora remittance policy, enabling bank customers to cash out money sent to them from abroad in dollars through MoneyGram, Western Union Money Transfer, among other international money transfer platforms.
Presently, Nigeria receives weekly remittances of the weekly Diaspora remittances of almost $30 million, CBN Governor, Mr Godwin Emefiele stated, saying: "We need to amplify the essence of the policy to reduce the cost burden of remitting funds to Nigeria by Nigerians in the Diaspora.''
"The average cost of sending $200 worth remittances to Nigeria from the US is roughly 4.7 per cent. Studies have shown that even a 1 per cent decrease in the cost of sending remittance can result in a significant boost in inflows."
This rebate, he said at a webinar on March 6, 2021, will be provided to the bank accounts of beneficiaries, following receipt of remittance inflows.
"We believe this new measure will help to make the process of sending remittance through formal bank channels cheaper and more convenient for "Nigerians in the diaspora. This new policy is expected to take effect on the 8th of March 2021."
He allayed fears that the introduced incentive could cause round-tripping, a situation where beneficiaries could cycle remittances to benefit more; he said: "There is a maximum amount that you can remit through an IMTO. You can't send $100,000 through an IMTO."
Prof. Abolade Shedrack, an economist, said that the 'Naira for Dollar Scheme' would encourage more remittances and ramp up dollars into Nigerian economy.
"The incentives are likely to encourage more formal remittances as opposed to direct cash transfer, hence incorporating more of the remittances into the formal banking system," he said.
A financial expert in the capital market, Mr Alade Joseph, described the strategy as novel that will save Nigeria from looing desperately for foreign exchange and would also conserve foreign reserves.
A frontline economic firm, PricewaterhouseCoopers, has predicted that the new policy would increase Nigeria's foreign remittances to $34.89 billion by 2023.
PwC noted that the growth in remittances is subject to global economic forces, which could spur or hinder growth of remittance flows, growth in emigration, economic conditions of residing countries and poor economic fundamentals in the Nigerian economy.
Nigeria, it said, required a coherent policy framework to harness remittances into generating capital for productive investments for the growth and development of small and micro-enterprises, which will in turn, create employment.
The World Bank put Nigeria's Diaspora remittance in 2019 at $21 billion and that predicted the remittance would rise to $27.66 billion in 2020.
The Lagos Chamber of Commerce and Industry (LCCI) said also that the polcy would increase annual diaspora remittance and save Naira from its current slide.
The Director-General, LCCI, Dr Muda Yusuf, advised the apex bank to allow exporters free access to their export proceeds.
"The CBN should go further by allowing exporters unfettered access to their export proceeds, whether in foreign exchange or naira. Similarly, Foreign Direct Investments and Foreign Portfolio Investments should be allowed greater flexibility in conversion rates of their inflows.
"A combination of these strategies would have a remarkable impact on foreign reserves, forex liquidity and the naira exchange rate."
Vice President of Nigeria, Prof. Yemi Osinbajo, has said that about 70 per cent of remittances into Nigeria from Nigerians in the diaspora go to family support, while only 30 per cent went into investments.
Osinbanjo made the remarks at a virtual event themed: "The New CBN CX Policy and Positive Impact to Diaspora Investments in Nigeria", organized by Fidelity Bank Plc, on Saturday, March 6, 2021, in Lagos.
He said that diaspora remittances had continued to surpass oil revenue, translating to sometimes as high as six per cent of Gross Domestic Products (GDP).
"For several years, the remittances exceeded Nigeria's oil revenue, translating, sometimes, as high as 6 per cent of GDP.
He said that government was into collaboration with others to work on a study in 2017 to help us better understand the potential of the Nigerians in diaspora investment group.
"We found that many Nigerians, particularly first generation males, have a keen interest in the economy and in fact many investors, do portfolio investments and are interested in venturing beyond the Lagos investment area.
Nigerians in diaspora were a formidable force with a 'can-do' spirit, and said they should focus more on specific investments opportunities, channelled through the right platforms.
"Nigerians in diaspora should engage in more specific investments that promote opportunities led by the private sector.''
He said the government has over the years been providing enabling environment for business to thrive.
"So, we are delighted with the new CBN policy that makes it easier for diaspora Nigerians, not just to transfer funds to Nigeria but, to have greater value over the funds that they transfer.
"I know when the data are released, we will see the impact that it has had on the diaspora remittances from Nigerians to Nigeria," he added.