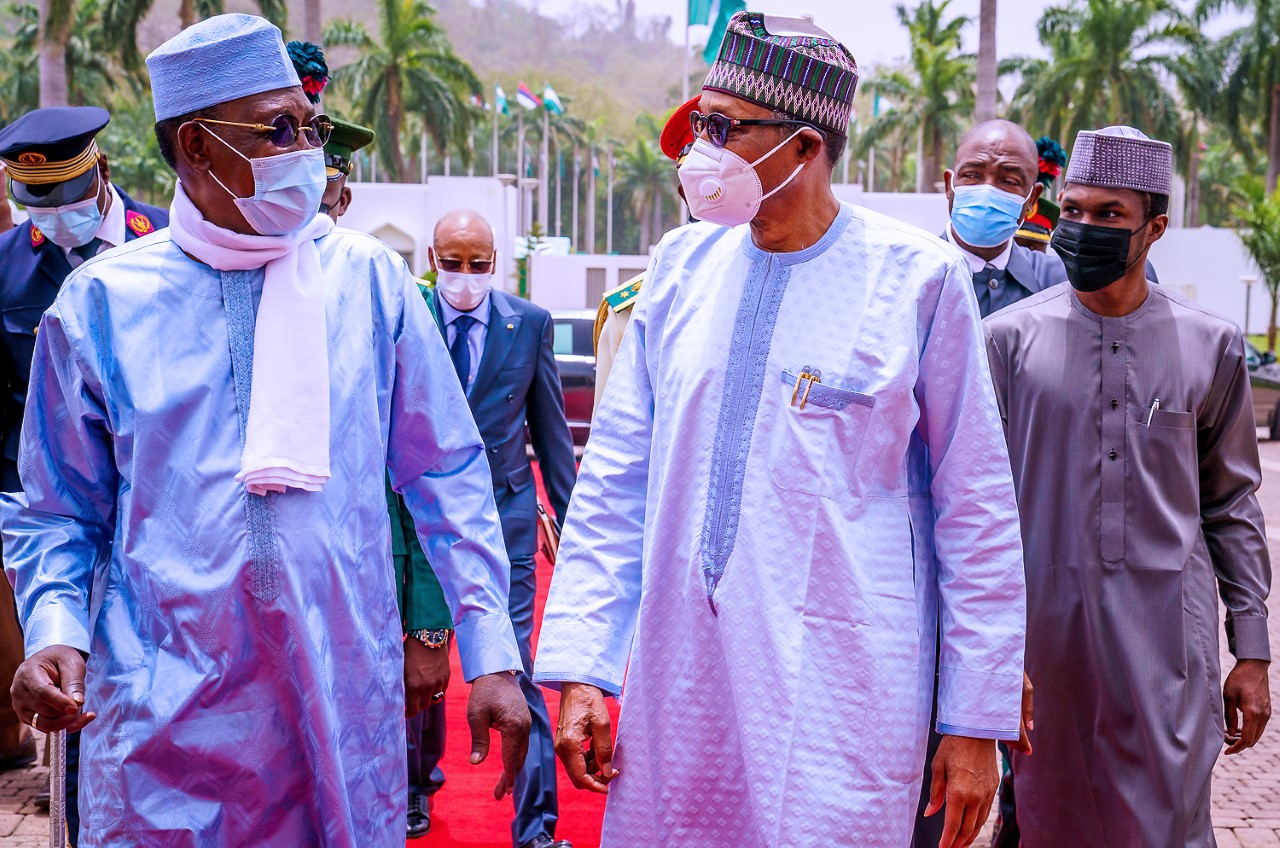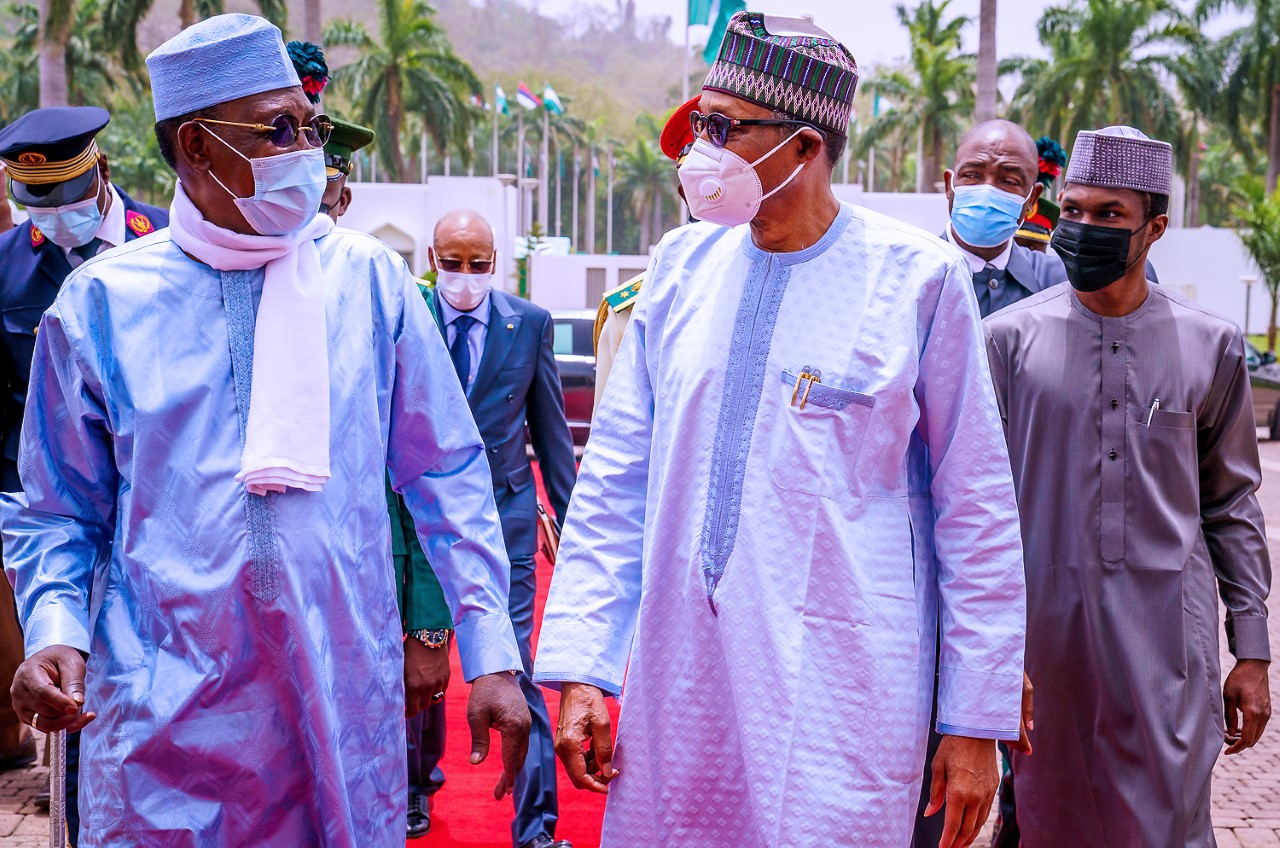 Tanko Mohammed
As insurgency gets more intense, President Idriss Deby of Chad has met with his Nigerian counterpart, Muhammadu Buhari, make changes at the Multinational Joint Task Force as well as the fresh strategies to curb insurgency.
He said in Abuja on Saturday, March 27, 2021 after the close door meeting with President Buhari that he hoped that the task of defeating Boko Haram and Islamic State of West African Province (ISWAP) would now be less cumbersome as Nigeria introduced new security apparatus and changes in the leadership of the army.
Buhari in January 2021 announced the appointment of new service chiefs to give a spike to the war against insurgency and banditry which have been ravaging the areas for more than a decade.
The Chadian leader, also welcomed changes at the Multinational Joint Task Force and said: "Yes, in fact, that's what he was discussing with President Buhari, this issue of the Multinational Joint Task Force, that the situation where it is only able to carry out one operation a year, makes things very difficult and the task of defeating Boko Haram more difficult.
"But with the new security apparatus that has been put in place with the new security chiefs and not only in Nigeria, but even on the Multinational Joint Task Force itself, which also has a new leadership.
"We're hopeful now that with new strategies, and new dynamism, that we'll be able to address definitively the issue of Boko Haram," he said.
Derby revealed that they discussed the issue of ISWAP and the challenges that they pose to the two countries as well as the lake Chad environment.
He regretted that the resilience of Boko Haram and the Islamic State of West Africa Province (ISWAP) in the Lake Chad Basin had been unprecedented and noted that the insurgents were being trained and supplied with weapons through Libya.
"Unfortunately, the resilience of Boko Haram and the Islamic State in the Lake Chad Basin has been unprecedented. They are being supplied and being trained and being formed through Libya.
"The MNJTF has done a lot of work and as you have seen recently, we've had exchanges on this with my brother on the way ahead.
"With the new team of the Chief of Defence Staff and the new Commander that has been appointed at the Multinational Joint Task Force, they were convinced that we can eradicate Boko Haram."
Lake Chad Basin
He said that they also discussed the issue of transfer of water from the Central African Republic into the Chad Basin, power, border closure, construction of roads and rail lines linking Nigeria to Chad.
"Other areas were on transportation from Chad which is a landlocked country by road and the possibility of constructing roads as well as rail transportation from Chad through Nigeria, and to Port Harcourt, where goods that are coming in will be able to be transferred to Chad."
Buhari had earlier reported that about 30 million people are adversely affected by a shrunken Lake Chad, which is now just about ten per cent of its original size, President Muhammadu Buhari has said.
"It is imperative that there be water transfer to the Lake Chad from the Congo Basin, so that the people can resume their normal lives," President Buhari said.
He added that with inter-basin water transfer, farming, fishing, animal husbandry would resume, and curtail irregular migration of youths, who now dare the Sahara Desert and the Mediterranean Sea, to get into Europe, seeking greener pastures.
"I've been engaging with the relevant stakeholders in Africa and beyond, on why we need to recharge Lake Chad. Nigeria will benefit more, but it is also advantageous to everyone,'' President Buhari added.
Buhari and the Chadian leader last met face-to-face in June 2019 on the sidelines of the Ogainisation of Islamic Conference summit in Makkah, Saudi Arabia.
Buhari last visited N'Djamena, the Chadian capital, in April 2019 where he participated in a one-day Extraordinary Session of the Conference of Heads of State and Government of the Community of Sahel-Saharan States.