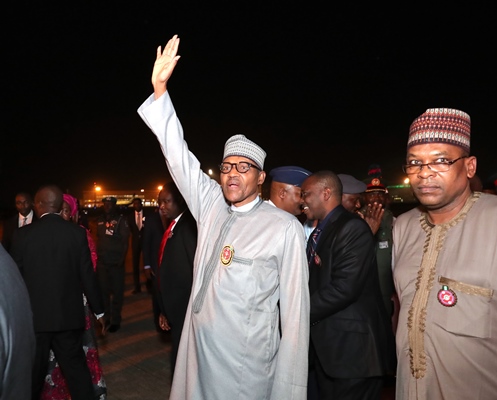 Tanko Mohammed
The 78-year-old Nigerian leader, President Muhammadu Buhari, would on Tuesday take-off to London for routine medical check-up , the twelfth since he became president on May 29, 2015.
According to Mr Femi Adesina, Special Adviser to the President (Media and Publicity), Buhari would leave Abuja on March 30, 2021 after a meeting with Security Chiefs.
The President, he said in a statement, was due back to the country in the second week of April.
The last trip of Buhari was on 20th of January 2020 when he participated in the first UK-Africa Investment Summit and used the period for medical check-up after the April 25, 2019 medical trip which lasted for 10 days.
On February 5, 2016, eight months after he became President, Buhari travelled to UK for his first holiday and return on February 10, 2016. Also on May 13, 2016, he seized the advantage of Anti-corruption summit in the United Kingdom to seek medical help.
Also he travelled to UK from July 1 to July 19, 2016 on sick leave and directed Vice President Yemi Osinbajo to act in his absence. He also spent two weeks in London in August 2017.
From 25th April to 5th May, 2019 President Buhari went to London for a trip reasons and also went to UK in November 2019 and spent 15 days.
The last trip to UK was in January 2020.
The nature of his ailment has not been disclosed even as secessionists in Eastern Nigeria have dubbed him "Jubrin of Sudan'', a mocking appellation that the actual person occupying the Presidential seat was fake Buhari.
The runaway leader of a terrorist group, Indigenous People of Biafra (IPOB), Mr Nnamdi Kanu, derided Buhari, saying that President had long died and that the person in Aso Rock was fake Buhari from Sudan.
President Buhari, a native of Daura Katsina state in North West Nigeria who had been battling health challenges won a second tenure in 2019 and he is expected to quit office in May 2023.
He was a military head of state from 1984 to 1985.
Shortly after announcing his plans to travel for check-up, President Buhari said on Monday, March 29, 2021, that Nigeria was better and stronger as one, even as report indicates that the country's debt had hit the ceiling.
The country's total debt stock, comprising the federal and state governments stood at N32.29 trillion as at December 31, 2020, from N32.22 trillion in September 30, 2020, according to the National Bureau of Statistics (NBS).
External debt totaled N12.71 trillion, representing 38.60 per cent while the domestic component stood at N20.21 trillion or 61.40 per cent of the debt portfolio.
Further disaggregation showed that $17.93 billion of the debt was sourced from multilateral institutions while bilateral from the AFD, Exim Bank of China, JICA, India, and KFW amounted to $4.06 billion.
Commercial debt was valued at $11.17 billion, comprising eurobonds and diaspora Bonds while $186.70 consisted of promissory notes.
Also unemployment has climbed by 33 percent while insecurity has peaked as many parts of Nigeria remain unsafe.
But Buhari said: "Despite occasional inter-ethnic tensions in our national history, and economic challenges, it seems to me that we have all agreed on one point that, notwithstanding our diversity of ethnicity, culture, language and religion, Nigerians are better together; even stronger together.
The President spoke at a Colloquium to mark the 69th birthday of the leader of the ruling All Progressives Congress (APC), Asiwaju Bola Ahmed TInubu.