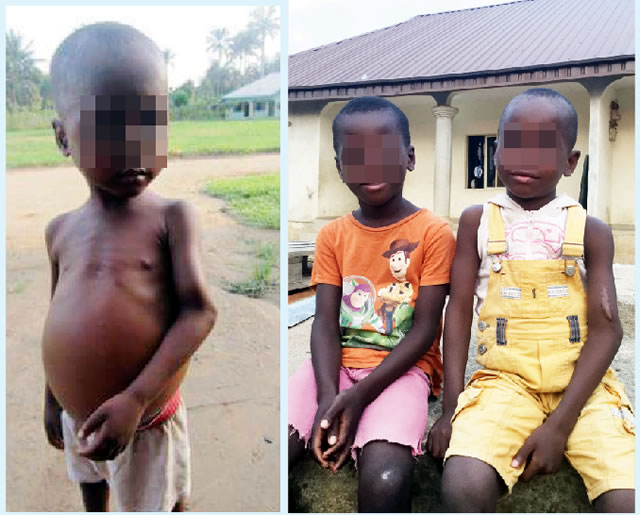 By Mohammed Ahmed
Abuja, October 15, 2021
Despite the efforts to save and protect the rights of children, many of those languishing in abject poverty have continued to be labelled as witches in parts of Nigeria, particularly in South South Cross River and oil rich Akwa Ibom states.
The children who walk the streets days and nights looking for succour are stigmatised, avoided and excommunicated and in many cases they are subjected to physical violence.
The poverty-stricken children who stray about in rags and looking frail and impairment due to malnutrition are usually labelled as witches by so called seers and faith-based organisations as well as relatives who enjoy comfort.
New generation Churches, have in their actions and deeds, made witchcraft a pulpit talk for these sets of vulnerable and disadvantaged children, many of who are between the ages of seven and 18.
Instead of providing these suffering children with the protection they need, these Churches compound the travails dogging these children. They subject these children to torture in the disguise of freeing them of witchcraft through " casting out of demons''.
Through open air preaching, crusades, and exorcism, these children, are gathered together by the "people of God'' who expose them to physical and psychological assault and dehumanisation that lead to death.
Observers say that such hapless children are often nurtured by poor single parents or parents who could not cater for their basic needs.
Mrs Lilian Ekanem, the Chairperson of Cross River State Child Protection Network, said that child witch syndrome or witchcraft-branding was particularly prevalent in Akpabuyo, Calabar South Local Government Area.
"We have a few cases in Calabar Municipality, capital city of Cross River state, as urban as it is; we also have cases in Ikom and even Ogoja but Odukpani is typically known for this. The practice is rampant in every part of the state. It is a common phenomenon, a mind-set and cultural norm in which people believe that children can be witches and for being `witches', they are consequently abandoned.''
The practice is also prevalent in Ikpa, Esit Eket, Oron and Okobo communities in oil rich Akwa Ibom State, also in Niger Delta of Nigeria, she said.
The situation is more critical because religiously brain-washed parents habitually drive their children out the homes, disown the children and abandon them to face the harsh conditions of street life.
Mr Adams Utuk, the Project Manager of Children of the Lord Rescue, an NGO, described actions as very cruel, insisting that the hapless children are unnecessarily traumatised for reasons that were beyond their control.
"A child does not know how he or she was born; so if the child purportedly has witchcraft powers if there is anything like that, the first person to be queried should be the parents,'' he said.
He said that many children have been killed due to syndrome, but there had been no specific data on the number that have died through witchcraft-branding and torture, but more than 15,000 children were recorded to have been branded as witches in the areas as at 2014.
Utuk said that some of them fall sick and die in the course of torturing them in order to compel them to confess to crimes they did not commit; many die of starvation, ill health and environmental torture. Some of them die or have ugly injuries that they sustained in the process of being tortured,'' he added.
Ms Victoria Akpabio, a social worker, insisted that everyone in the society should be blamed for the aberration.
"All of us are responsible for this problem. In some churches, for instance, you go there and they will call your child a witch. Some claim to have special powers to deliver such children; they torture them under the pretext of exorcising the demon of witchcraft.
"These unfortunate children are often abandoned; you find them roaming the streets, dressed in tattered clothes. They fend for themselves, seek and engage in menial jobs; they hang around moving vehicles, begging for alms, or they engage in petty theft or armed robbery,'' she said.
She explained that some of the children, out of fear, confess that they are witches.
"I have seen a case in the Barracks Road area of Calabar where a 15-year-old girl narrated how a neighbour gave her witchcraft through food.
"So, when a child begins to speak in that manner, you should understand that there is a problem somewhere.''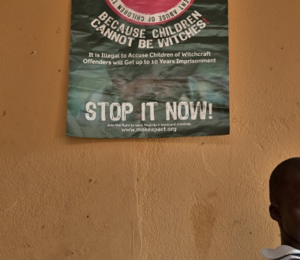 Dr Alex Ifeka, a medical doctor and psychologists, flayed the child witch syndrome and explained that these are mere manifestation of hallucinations by the children many of who have had some terrible dreams and when they try to narrate the nightmares, people might be tempted to misconstrue it as the children confessing witchcraft.
Ifeka explained that sometimes, when a child is traumatised, heavily deprived or abused, these conditions can affect the child's frame of mind, he explained.
"When the child is speaking, he or she may be muttering words that are not usual and normal, causing people to blame it on witchcraft manifestations.
"Why not think of other possibilities: the child may be sick; the child may need to see a psychiatrist; the child may be in fear and you know fear can make one behave abnormally. In actual fact these children need help but people often decide to call them witches.
"To me, if witches truly cause harm, torture, destroy and hamper development; then, the parents of the `child witches' should be the real witches. If those children actually had witchcraft powers, don't you think they would have attacked their accusers in a fit of revenge?''
He alleged that some people brand some children as witches, as part of plot to inherit the properties of their dead parents.
"You see such unfortunate children roaming the streets and they are always eager to tell a willing listener that their uncles, who became their guardians after their fathers' death, drove them out of the house.
"In essence, some wicked relatives drive out these children in a plot to inherit their parents' property and they cleverly resort to branding the unfortunate children as witches as part of their Machiavellian tactics.''
Some pastors or faith-based organisations that were engaged to deliver "child witches'' were deceptive and not endowed with the divine power to carry out such assignments, Mr Luca Patrick, a Senior Pastor in Church of Divinity, Calabar in Cross River State, said.
He said that churches are not empowered or endowed by God to brand children as witches nor are they empowered to carry out exorcism.
He explained that the pastors of such churches end up using physical means and torture, rather than spiritual energy, to carry out the deliverance.
"In the process, they get these children brutalised, badly beaten, burnt up and facing all manners of inhuman treatment, all in the name of deliverance. This is absolutely wrong and inhumane.
"And community leaders, probably due to their ignorance of the Child Rights Law, which outlaws any form of torture or abuse of a child, allow this kind of wrongdoing to prevail in their communities, whereas it is not right.
In May 2021, an NGO, African Children's Aid Education and Development Foundation (ACAEDF), rescued and transformed 234 children from child witch-branding in South South Nigeria.
The Executive Director of ACAEDF, Mr David Umem, said on October 14, 2021 that some of the children had been reintegrated into the society, with many still drawing supports from ACAEDF.
"The situation of child witch-branding, which is championed by adults and parents whose duties are to protect these children, ignited in us the need to intervene and provide direct and immediate aid to them, as their rights have been greatly abused,'' Umem said.
Mr Oliver Orok, former Cross River State Commissioner for Social Welfare and Sustainable Development, said that many stigmatised children, who hitherto roamed the streets, have been evacuated and sent to rehabilitation homes.
He said the state government was also implementing the provisions of the Child Rights Act.
Although the Cross Rivers and Akwa Ibom state governments have started prosecuting violators of these children, but Dr Esther Onoyom Ita, the Chief Executive, Society for Youth Development and Rescue Initiative (SYDRI), said the action had not been far-reaching.
Ita, who also runs a children's home in Calabar, SYDRI has embarked on search and rescue to free some of these children, but "there are thousands of them out there. How many can we rescue,? she asked.
"We work in partnership with Federal Psychiatric Hospital in Calabar. Some of the children have been diagnosed with conditions like Attention Deficit Disorder (ADD) which is a serious problem.
The Federal Psychiatric Hospital, she said has been helpful but its services are not free.
One of the survivor of Child Witch syndrome, Dominic Inyang, now an adult, said: "I went through hell in the name of church deliverance. I thank God I was picked up and trained by a good Samaritan.''
"My life before now was very bad. I was rescued and I have acquired secondary school education.''
The National Human Rights Commission, NHRC, has appealed to the police to arrest anyone who brands a child a witch.
The Commission said that accusing children of witchcraft is child abuse of a grievous nature which cannot be overlooked.
The Principal Legal Officer, National Human Rights Commission in Plateau state, Ms Kachollom Tachio, noted the rights of the traumatized were abused hence the need to get justice for them.
A statement on September 20, 2021 by United Nations Children Fund (UNICEF) said that 10 of Nigeria's 36 states and the Federal Capital Territory (FCT) are yet to domesticate the Child Rights Law that is meant to protect children.
Ms Boco Abdul, a Knowledge Management Specialist at UNICEF Field Office, Enugu, said the people should hold government accountable when it's not living up to expectations, adding that UNICEF as an agency was committed to creating child-friendly communities in Nigeria.
She called on the Child-Friendly Communities Initiative volunteers to fully commit themselves to their duties and ensure that they spread the message of child rights, child protection, sustainable health.
Mrs Racheal Adejoh Andrew, Chairperson of Abuja Chapter of International Federation of Women Lawyers (FIDA), says they are making efforts to ensure that the Child Rights Acts (CRA) is included in school curriculums so that young children also know their rights early in life.
She said FIDA has simplified the Act in a very friendly manner that is readable to all children, maintaining that this will help them defend their rights as they grow older.
"We have been going to different schools to make them know the provisions of the child right act, because what you don't know you cannot take advantage of them.
"Because they are children first and foremost, they should know what the law says about their rights and then for caregivers, for mothers, for people like you and I, we are there to protect these children, we will not ignore them because their biological parents are not around them. We won't allow their rights to be violated.''
With proper enlightenment and implementation of the law, the branding of children as witches will be overcome in due course, she said.