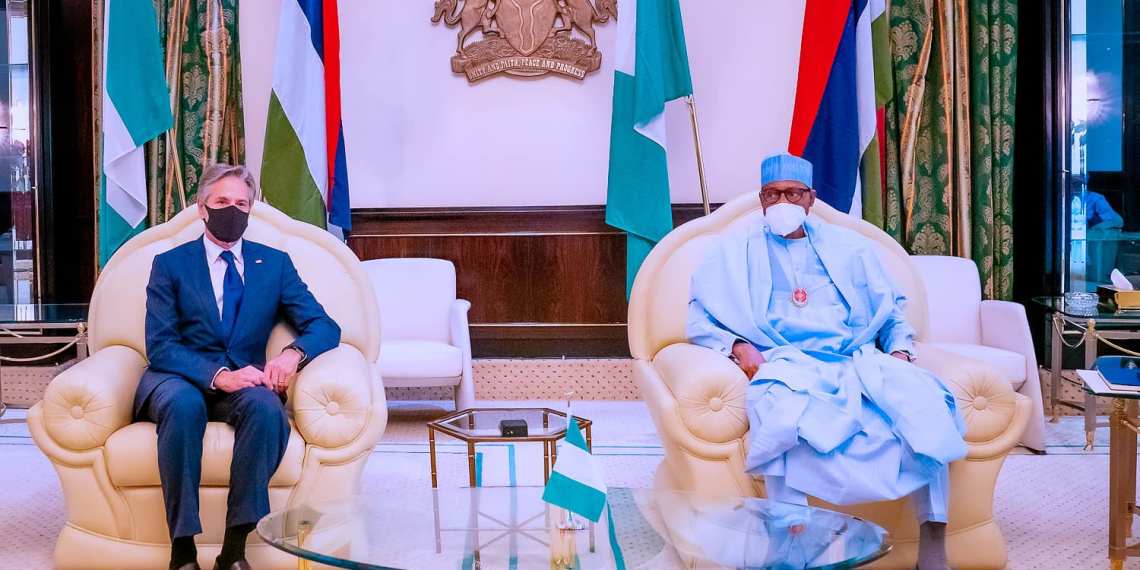 Mohammed Momoh
Abuja, November 21, 2021 (NIGERIA) "Well, mostly what I hope is that Nigeria will be a strong lesson for the world, for Africa,'' this is the conclusion drawn by visiting US Secretary of State, Antony Blinken, who many Nigerians expected to tongue lash Africa's most populous nation.
Critics too were most disappointed that barely 48 hours before Blinken touched down in Abuja, capital city of Nigeria, US had announced the removal of the West African country from the list of religious freedom violators.
In drawing his conclusion, 59-year-old Blinken, on first official visit to Nigeria, sees President Muhammadu Buhari's respect for religion of all persons and respect for tenure limits as important and powerful thing to other leaders.
Blinken felt relieved after he spoke with President Buhari who sees elongation of tenure as undemocratic and also felt happy that it is true that Nigeria does not persecute any particular religion.
He also sees 2023 Nigeria's general elections as very important to the world and Africa.
"If the election, as we anticipate and hope, goes off smoothly, freely, fairly, with real participation, that also will send a very, very strong message about democratic resilience,'' but that democracy should also make meaning to the lives of citizens.
Blinken's meeting with President Buhari on November 19, 2021, brought out America's assistance in the fight against terrorism which had caused the death of almost 100,000 people in Nigeria's North East so also zeal to cement and strengthen relations.
President Buhari quickly acknowledged US for allowing Nigeria to procure military hardware to fight terrorism as well as training given to the military as well as Nigeria's adoption of the American democratic model, hook, line, and sinker, with its term limits'' and reported that those who have attempted to breach it were disappointed, "if not disgraced''.
Mitigation of the negative effects of climate change topped the discussion as
Nigeria reports that it and its neighbours have been living with the impact of climate change for a while, which has seen the Lake Chad shrink drastically and affected the livelihood of about 30 million people in the Lake Chad Basin countries.
On the recent removal of Nigeria from watch-list of countries violating religious
freedom, which Blinken said was "based on facts," President Buhari noted that there was freedom of worship in Nigeria, and no one is discriminated against on the basis of his or her faith.
At a meeting with Nigeria's Vice President Yemi Osinbajo and External Affairs minister Geoffery Onyeama, to to drive home America's package of hope to Nigeria, Blinken signed a $2.1 billion Development Objective Assistance Agreement to support a healthier, more educated, prosperous, stable, and resilient Nigeria.
Osinbajo sees America's cooperation on security "as very important'', especially the delivery of 12 Super Tucano fighter jets and also hope to deliver another set of fighter helicopters as well as intelligence support in fighting terrorism and other violent crime in Nigeria and Sahel region.
Onyeama who praised Blinken for having special interest and solidarity with Nigeria, said the United States has been very supportive and hoped that they might support Nigeria also to develop capacity in manufacturing capacity for vaccines and help with technology transfer.
He acknowledged Nigeria as US second-largest trading partner in Africa with two-way trade between totalling over $10 billion in 2019 and United States is one of the largest foreign investors in Nigeria with foreign direct investment totalling $5.5 billion in 2019.
"And also, trade is increasing, but we are hoping to have increased market access for our agricultural products in the framework of AGOA, the African Growth Opportunities Act mechanism that is in place to help to promote African access to U.S. markets for African countries.''
Blinken's visit to Africa's most wealthy nation was not for fun as he released a plethora of package to assist Nigeria – health, security, democracy, trade, security, important takeaways that the West African nation had yearned for.
The assistance Blinken says is predicated on the importance of Nigeria to US, stressing: "Nigeria touches us every day in America through the amazing power of its diaspora''.
"Our meetings, the engagements that I have throughout my time here in Nigeria, reflect the depth of partnership of now more than six decades and the way that our collaboration is vital – and maybe more vital than ever – to tackling shared challenges.''
In the America's package, he said, aside the delivery of 7.6 million doses of COVID-19 vaccines to Nigeria, US expects to send another significant number of doses by the end of the year and also help to tackle a food security crisis that was worsened by the pandemic.
He said, " we're working with Nigeria to build back better from the pandemic by fostering inclusive, sustainable economic growth.''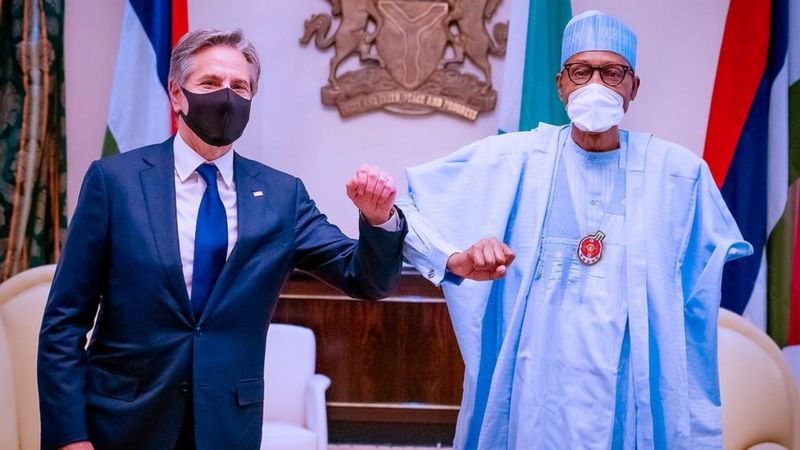 "And we're committed to working with the government of Nigeria as it pursues economic reforms, for example, to create a more stable regulatory environment to attract more foreign investment.''
The third relates to working together to address the global climate crisis as US and Nigeria agreed during COP26, on significant new commitments to join the Global Methane Pledge and build on the progress that Nigeria has made in solar power.
Working with Nigeria to create good-paying jobs and expand renewable energy access, he said: "The USAID has a five-year, $110 million project, the Nigeria Power Sector Programme, and that's supporting key initiatives like the Solar Power Naija, which will bring solar energy to 25 million Nigerians who are off the electric grid and lack access to power.
"That, in turn, is expected to create as many as 250,000 new jobs in the energy sector, spur local industry, generates $18.5 million in annual tax revenues. So it will have practical, meaningful effects.''
Both countries have discussed comprehensive approaches to build effective security, hence the fourth plank of America's assistance is "to work with Nigeria to challenges posed by Boko Haram, ISIS West Africa, and other terrorist and extremist groups'' as well as eliminate drivers of extremism, and respects for basic human rights.
Mr Rotimi Olawale, Political analyst and co-founder of YouthHub Africa, describes the visit as timely, especially as many African nations, including Nigeria, have failed to meet targets set by the World Health Organization for vaccination.
"It's an opportunity to strengthen ties with Nigeria. As the world continues to open, Africa has been lagging behind in being able to access vaccines and I hope that that would be top of the agenda as well as issues in security, and support to ensure that the shrinking civil space not only in Nigeria but across the region is also addressed," Olawale said.
Prof Sam Smah of Open University of Nigeria, described the takeaways from the visit as exciting and "if driven to logical conclusion could be the fillip to Nigeria's major hurdles in development''.
The professor of sociology said: "It is important for US to help Nigeria to play a stabilization role across Africa especially with the political crisis that is threating stability on the continent.''
"Nigeria must seize the opportunity released by Blinken and work to actualise all that US offered in the interest of Nigerians and African people.'
He said that the visit of Blinken to Africa is a renewed hope that US is returning to Africa ; "this is a big relief to the troubled continent''.