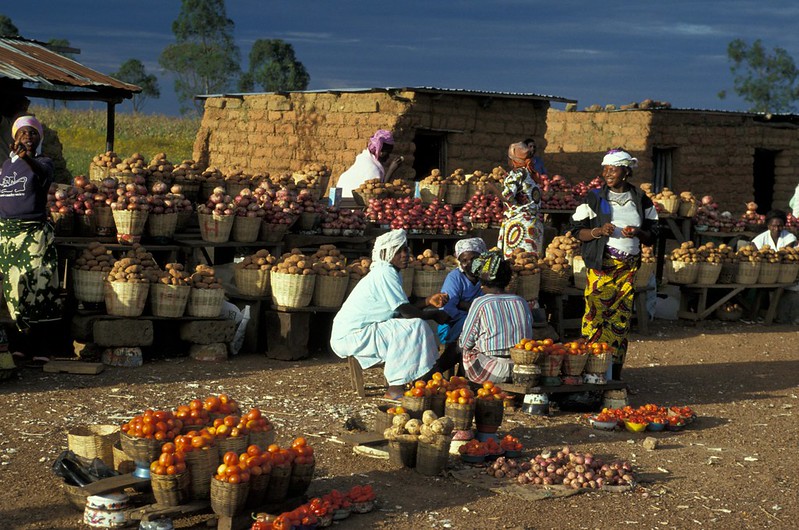 Mohammed Momoh
Abuja, November 24, 2021 (NIGERIA) The World Bank has released its November 2021 Nigeria Development Update, advising the most populous African nation to dump subsidies on petroleum products, increase taxes on "sinful goods," including cigarette, alcohol, and sugary drinks.
The update which was released on November 22, 2021 indicated increasing inflation caused eight million Nigerians to fall into deep poverty in less than two years.
According to the report, Nigeria no longer reap the benefits of hike in prices of crude oil so the country has been recording low revenues even as it strives to maintain high and unsustainable petrol subsidies.
Nigeria, the update noted is the only country in the world "granting universal price petrol subsidies'' and as such has the worst revenue-to-GDP ratio among 115 countries.
The World Bank recommended a number of policy decisions for remaining two years of the administration of President Muhammadu Buhari and the Central Bank of Nigeria (CBN) with effect from 2022.
One of such recommendation is the advice that the government raises taxes on what it referred to as "sinful goods," including cigarette, alcohol, sugary drinks and accelerate efforts to diversify its revenue stream and take the risks to the implementation of these reforms.
"These reforms include improving tax administration, especially for VAT, while also undertaking some significant policy reforms, such as implementing a levy on electronic money transfers, and additional excise taxes on alcohol and tobacco
"While these reform efforts are expected to generate additional revenues of over ₦ 3 trillion a year, they may be challenging to politically implement in the run up to the national elections, planned for 2023."
Making a strong case for a stop in fuel subsidies, the bank argued that the poorest Nigerians do not benefit much from the subsidy regime.
"Nigeria is the only country in the world with a universal price subsidy that applies exclusively to PMS. Universal price subsidies for liquid fuels are almost always regressive, as the rich consume far more fuel than the poor," the report read.
"PMS subsidies are especially regressive because PMS is used primarily in light- and medium-duty motor vehicles, which are rarely owned by the poor.
Since raising PMS prices tends to have minimal adverse effects on poor households, governments worldwide have typically prioritized eliminating PMS subsidies over those that apply to other fuels.
"However, Nigeria has done the opposite—eliminating all subsidies for liquid fuels other than PMS. Moreover, the Nigerian PMS subsidy is exceptionally generous, and in October 2021 the PMS pump price was the seventh-lowest among 168 economies surveyed at just ₦495 per litre"
It argued that the poorest 40 percent of Nigerians consume less than 3 percent of the total PMS consumption.
The bank also urged the government to cut back on its request for overdrafts from the Central Bank of Nigeria (CBN) through the Ways and Means financing system; and to keep overdrafts to levels stipulated by law.
"Faced with a widening budget deficit, policymakers have increasingly turned to costly CBN overdrafts (also known as Ways and Means financing), which are not properly integrated into the fiscal accounts.
"While Nigeria's debt burden remains manageable for the time being, maintaining sustainable debt dynamics will require curbing the use of CBN financing for the deficit and addressing fiscal pressures to break the cycle of low growth and rising public debt."
"The current mix of monetary, fiscal, foreign exchange (FX), and trade policies also plays a prominent role as a driver of inflation," the World Bank said.
The bank recommended that fixing inflation will need some solution from foreign Exchange (forex) management.
"Trade and FX restrictions, including the closure of land borders starting in August 2019, have increased prices for food and consumer goods, and imports of over 40 goods, including many staple foods, are currently ineligible for FX through formal windows.
"Nigeria's exchange-rate management has resulted in the rise of parallel rates, which are closely linked to food-price dynamics."
To address inflation, the bank recommended enhancement of the "flexibility and predictability of exchange rate management". It also asked that all land borders be fully open for trade.
The bank also advised government to step up infrastructure development because infrastructure deficit as well as build digital public platforms, digital financial services, digital entrepreneurship, digital skills, and digital infrastructure.
"This weak infrastructure base creates a ripple effect across the economy, contributing to low levels of financial inclusion, and persistent geographic and gender gaps in access to and use of digital technologies.
"Conflicts, particularly in the north, exacerbate these challenges, due to heightened security risks. By investing in its digital infrastructure and strong foundational ID systems, Nigeria can promote economic development, security, governance, and efficient delivery of services, thereby accelerating progress toward an inclusive digital economy."
The Bank advised that the government "reduce delays in border and port clearance by simplifying and harmonizing documents, streamlining, automating procedures, and introducing risk-based customs interventions."
Recapping the Bank said that in 2020, Nigeria experienced its deepest recession in two decades, but growth resumed in 2021 as pandemic restrictions were eased, oil prices recovered, and the authorities implemented policies to counter the economic shock.
Nigeria was highly vulnerable to the global economic disruption caused by COVID-19, particularly due to the decline in oil prices.
"The COVID-19 crisis continues to disrupt Nigeria's labour market. While it now exceeds pre-pandemic levels, improvements have been primarily due to workers turning to small-scale, non-farm enterprise activities in retail and trade, the revenues of which remain precarious.
"While Nigeria has made some progress in socio-economic terms in recent years, its human capital development ranked 150 of 157 countries in the World Bank's 2020 Human Capital Index.''
The country continues to face massive developmental challenges, including the need to reduce the dependency on oil and diversify the economy, address insufficient infrastructure, build strong and effective institutions, as well as address governance issues and public financial management systems.''