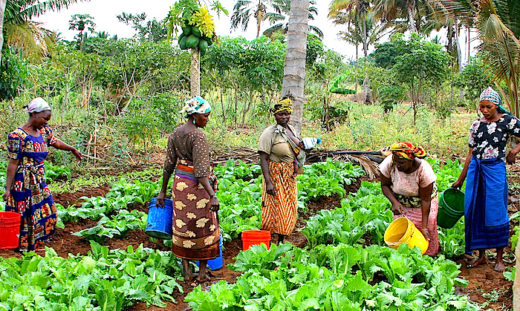 Organic Agriculture practice experts say harmonisation of its standards among the 15 ECOWAS members will enhance quality trade in certified produce and products in the region.
They gave the assurance at the closing day of the 6th West African Conference on Organic Agriculture with the Theme, 'Feeding the World Without Poisoning' at Ouagadougou, Burkina Faso.
The programme had participants from across the world rubbing minds over how to ensure healthy, sustainable agriculture practices.
They assured participants that the harmonisation of the standards was for the good of the health of the people of the member states and their environment.
Mr Ernest Aubee, Head of Agriculture, ECOWAS Commission, Abuja, and Chairman of Ecological Organic Agriculture (EOA) Regional Steering Committee, said that the standards documents would be submitted to ECOWAS for ratification and approval.
"In West Africa, we have different standards in different countries, while some countries do not have any at all, so this harmonisation will protect the interests of both those who have and those who do not have".
Aubee said that organic Agriculture is developing fast at the global level, however, the pace is still slow in West Africa compared to Eastern Africa, Europe and Australia.
"This harmonisation will accelerate organic agriculture development, regional growth of food, and security integration.
"We want to achieve food security and safety, so that our people do not only have enough to eat, but eat quality and nutritious food.
"Therefore, I encourage stakeholders to appreciate and key into these harmonised standards when approved, in the interest of the region".
Mr Rene Emmenegger, Project Manager, of International Federation of Organic Agriculture Movement (IFOAM) stressed the importance of organic agriculture standards.
He said that the standardisation would not only improve development of organic agriculture in West Africa but also encourage export business.
He said that IFOAM offered a platform for organic standards setters to discuss standards and create synergies for standard development and harmonisation to also ease trade.
"Agriculture and certified organic farming without viable trade is not sustainable.
"It will bring diversity of produce, simplicity of the process, empowerment of farmers, and easy access to standardised produce and products in the region.
"It will also promote and increase supply of organic produce and products and stimulate the growth of the organic sector of the region".
Dr Olugbenga AdeOluwa, Secretary, West Africa Ecological Organic Agriculture (EOA) cluster noted that political and financial support was needed for proper formulation and implementation of the standards.
AdeOluwa suggested an enactment of stand-alone EOA policies, strategies and frameworks that supported the regional standard.
"These policies should give clear guidelines and full support to the production of organic inputs and products.
"The policies should have proper institutionalisation and inclusivity of all stakeholders and public-private partnerships.
"It must include a bottom-up approach in the policy implementation which offers farmers good opportunities to contribute to the process and ensure its success," he added.