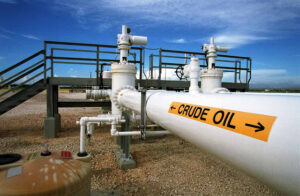 Nigeria's crude oil production dropped to an average of 1.338 million barrels per day in December 2021, the Organisation of the Petroleum Exporting Countries (OPEC) has said.
OPEC made this known in its Oil Market Report for January 2022 on Tuesday in Lagos.
The report said the figure showed a decrease of 43, 000 barrels per day when compared to the 1.381mb/d produced averagely in the month of November 2021.
"According to secondary sources, total OPEC-13 crude oil production averaged 27.88 mb/d in December 2021, higher by 0.17 mb/d Month on Month.
"Crude oil output increased mainly in Angola, Saudi Arabia, Iraq and the United Arab Emirates, while production in Libya and Nigeria declined," the report said.
The report said according to recently released statistics by the Central Bank of Nigeria (CBN), the country's current account registered its highest surplus since early 2018, amid a strong trade position.
It said: "In 3Q21, the current account posted a surplus of 3.6 billion dollars compared with 348 million dollars in 2Q21 and a shortfall of 3.6 billion dollars in 3Q20.
"In 3Q21, exports exceeded imports by about 1.8 million dollars, recording the largest excess since late 2019."
The report added that improving oil prices had continued to support the economic recovery, coupled with easing of the inflation rate.
It said the inflation rate marginally fell for the second month in a row to 15.4 per cent from 15.9 per cent, marking the lowest rate since November 2020 due largely to sustained moderation in food prices.
The report said: "However, on a monthly basis, consumer prices increased by 1.08 per cent, following a 0.98 per cent increase the previous month.
"In the meantime, the Stanbic IBTC Bank Nigeria Purchasing Managers' Index reflected solid expansion in business conditions, rising to 56.4 in December from 55 in November amid stronger output and new order growth."