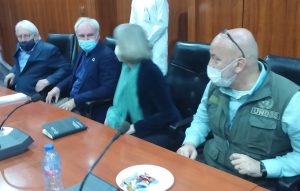 A United Nations delegation, led by UN Under-Secretary and Emergency Relief Coordinator, Mr Martins Griffths, is in Borno to assess the situation as the State Government embarked on resettlement of Internally Displaced Persons (IDPs) back to their recovered areas.
The delegation on Wednesday visited Bama town were it interacted with IDPs, government officials and military personnel.
Speaking in a meeting with Gov. Babagana Zulum, Griffiths said UN would continue to partner and support the Borno government in improving the lives of people in the affected by insurgency.
Griffiths who lauded the gradual return of peace to Borno, stressed the need for people in need to get support in time and in a dignified way from all stakeholders.
"We therefore see our role to provide aids, assistance and support where we can through our agencies to those people in need," Griffiths said.
In his remarks, Gov. Zulum expressed the appreciation of government and people of Borno to UN agencies for their interventions, particularly the unique role being played by the United Nations Office for the Coordination of Humanitarian Affairs (OCHA).
Zulum urged the team to use the visit to interact with all stakeholders for first hand information on realities on ground and efforts being put in place.
Zulum, who explained to the team why his administration is closing some of the camps in Maiduguri because of pandemic and social vices, urged the team to visit some of the camps, particularly Muna Camp, which remains one of the worst camps in the world that is not fit for human habitation.
"I look forward to discussing how we can best work together to reduce the suffering of people affected by insurgency, and how we can support people not only to live but to live in dignity," Zulum said.
The governor, who also spoke on improved security, said the death of Boko-Haram leader, Shekau, has provided opportunity for many of his fighters to surrender to the military, adding that many hostages being held as slaves by the insurgents also had the opportunity to come out.
He said government and partners had built new houses for many displaced persons yearning to go back home.