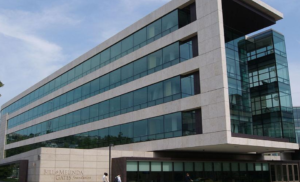 The Bill & Melinda Gates Foundation has added four new board members as part of a leadership revamp brought about by its founders' divorce.
Also necessitated the new board is billionaire philanthropist Warren Buffett's resignation from the board in June.
There are a lot of questions swirling around about the future of one of the most influential organizations in global health and development.
Even the ones that seem personal — can Bill Gates and Melinda French Gates still work together? — have big ramifications when they involve a foundation with a $65 billion endowment, 1,600 employees, and a whole lot of brand equity at stake.
But the message sent by the selection of these four trustees seems to be stability.
Mark Suzman is the foundation's current CEO.
Strive Masiyiwa is a fellow billionaire philanthropist from Zimbabwe who has worked extensively with Bill and Melinda.
Minouche Shafik is director of the London School of Economics and was the youngest World Bank vice president.
Thomas Tierney is the co-founder and co-chair of The Bridgespan Group, the philanthropy consulting firm that already counts the Gates Foundation as a client.
Stephanie Beasley reports that a video message announcing the board additions featured only Bill Gates, Melinda French Gates, and Suzman — and seemed to give the impression that the new trustees were brought on to help the founders with their thinking.
Masiyiwa and Shafik stand out as two additions whose experience could help drive the foundation's increasing focus on pandemic preparedness.
While Tierney's selection marks a truly public arrival for The Bridgespan Group, which has attracted increasing attention as a common thread connecting some of the world's most powerful funders.
One interesting tidbit noticed by Puck reporter Teddy Schleifer: A first press release from the foundation referred to "pledges by Gates, French Gates, and Buffett to devote the bulk of their remaining resources to the foundation."
A second version changed that to, "the expectation of future pledges." The question that fills the gap between those two is whether Melinda French Gates still plans to give most of her money to the foundation after the divorce.