The National President of National Rice Producers, Processors, Millers and Marketers Association of Nigeria, Alhaji Mustafa Ahmadu, has called on farmers to leverage government's initiative on agriculture and develop the country.
He said in Jos on January 29, 2022 at the inauguration of the North Central zonal executives.
Ahmadu said that the "country is presently blessed with a government that is focused in agricultural development, particularly smallholder farmers.
"You will agree with me that this support will not continue forever, therefore let's use this to develop agricultural sector in a sustainable manner that will outlive this government".
He said association was merger of 13 commodity associations within the rice chain value from primary production to the user stage brought together by Federal Ministry of Industry Trade and Investment in August 2021.
He said that with the association, every stage in rice production circle had a well organised and professional group that would drive the process.
"We are having discussion about funding all segments to develop capacity to function optimally for good of everyone and the country in general," he said.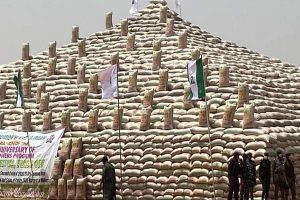 He said that the association as an umbrella body of all the rice value chain, there was need to harmonise experiences in the various area.
"We must harmonise successes recorded and challenges to build on and move the rice commodity from its current status to an enviable position," he said.
Ahmadu said that the association would create specialty among the actors, make the operational structure seamless and create access to sustainable funding,
"It will also stimulate structured market and and fair pricing a guaranteed off take for farmers", he said.
He also said that the association was conceived to coordinate and streamline the activities of all players in the rice chain value, increase production, encourage local consumption and patronage.
"The association will improve capacity of all value actors, attract more investment to remain competitive locally and internationally, " he said.
He noted that the association would draw attention of government and agricultural research institutes to the challenges faced by value chain members.
The state executive committee members took their oath and the swearing -in and appointment letters were given out to the executives.