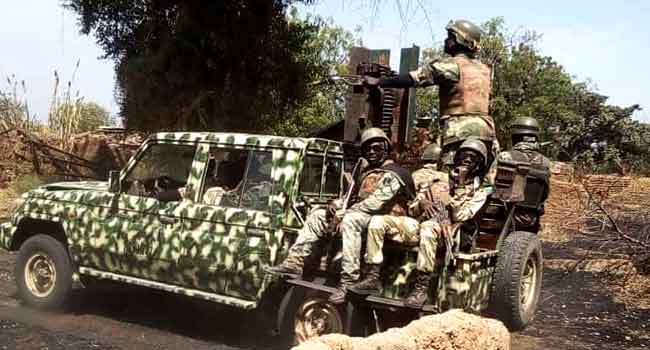 The Nigerian Army has sent a reinforcement to fortify Jakana, a town in Konduga Local Government Area of Borno State, where intelligence report predict will be attacked by Boko Haram.
Troops attached to the Operation Lafiya Dole were seen on Wednesday in large numbers with heavy offensive artillery strategising in Mainok, another town located few miles away from Jakana.
The security ambience around checkpoints in the area has also tightened with travellers undergoing thorough checks.
This may not be unconnected with a report making the rounds since Tuesday of a looming attack on villages around Jakana.
A journalist Ahmed Salkida had tweeted, "Boko Haram or ISWAP elements are currently gathering in the village of Mattari in Konduga LGA.
"The location is a few miles to Jakana or Benishek, there are Nigerian military facilities in both areas. Multiple local sources are reporting this."
However, the Army has yet to respond to this assertion.
The Jakana-Benisheikh Expressway has been the only road linking Maiduguri, the Borno State capital to other parts of the country.
In the height of the insurgency, several travellers have lost their lives with others captured on the highway when the Boko Haram insurgents held sway.
The recent upsurge of attacks on civilian and military bases has prompted the Federal Government to direct the Chief of Army Staff, Lieutenant General Tukur Buratai, to remain in the North East until the security situation there improves.
The Chief of Air Staff, Air Marshal Sadique Abubakar, was also ordered to comply with the directive.
Ahmad Salkida " Military sources are reporting an ongoing attack in Gudumbali. Apparently, #BokoHaram and #ISWAP have their eyes now on territorial control, beyond attacks on military bases. Will the Nigerian Security authorities allow a repeat of pre -2015 era?
Breaking News: Military sources are reporting an ongoing attack in Gudumbali. Apparently, #BokoHaram and #ISWAP have their eyes now on territorial control, beyond attacks on military bases. Will the Nigerian Security authorities allow a repeat of pre -2015 era?

— Ahmad Salkida (@A_Salkida) December 4, 2018