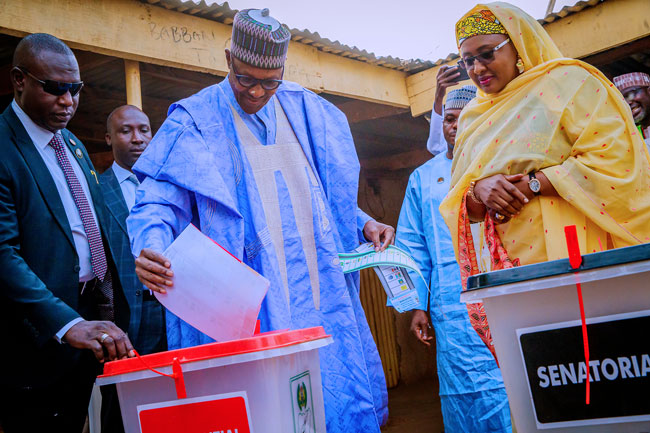 President Muhammadu Buhari and wife, Aisha cast their votes at Kofar Baru Polling Unit 003 in Daura, Katsina State.
President Buhari on Saturday morning reaffirmed his confidence in winning the presidential election.
Buhari told newsmen shortly after voting at Kofar Baru, Sarkin Yara "A" ward in Daura, his home town, that he would win the election and congratulate himself.
Clad in a light blue `Babaringa',the president was accompanied by his wife, and some security details.
Aisha was the first to vote before the president at 8.06 a.m., while the president voted at 8.10 a.m.
"So far, so good. Nigerians understand and are behaving themselves,'' Buhari said when asked to give his assessment of the exercise, so far.
When asked if he would congratulate the winner if he lost the election he said, "I will congratulate myself; I am going to be the winner,'' the president said.
Buhari's major opponent, Alhaji Atiku Abubakar and his wife, Titi, also cast their ballot in Yola.
The Vice President Yemi Osinbajo, on Saturday said Nigerians have the right to determine their leaders in a free and fair elections.
The News Agency of Nigeria (NAN) Osinbajo said this after casting his vote at polling unit 033, Ward 4, Victory Garden City, Etiosa Local Government Council, Lagos.
He said " I think it is deeply satisfying. Of course there are home owners, there are those who are renting, there are staff and security but everybody has the right to vote.
"The vote of the vice president is not in anyway more important than the vote of the security man watching over us here, that is the beauty of democracy," Osinbajo said.
The vice president enjoined Nigerians to come out en masse to exercise their civic responsibilities.
He said" my message to Nigerians is that they should not just come out and vote but also encourage others to do so.
The vice-presidential candidate of the PDP, Mr Peter Obi, has described INEC's processes for the presidential and national assembly elections as clumsy.
Obi told the News Agency of Nigeria (NAN) on Saturday at his Amatutu Ward 2 voting centre at Agulu in the Anaocha Local Government Area of Anambra that it took a while for the card reader to clear him before he voted.
"Before I voted, it took a while for the card reader to identify my card. People who came earlier than 8.45 a.m. when I voted complained of the same problem. Calls I am still getting across the state still point to that."
Obi named Umuowerre, Nneogidi Nri ward one, two and three etc. all in Anaocha as places with reports of malfunctioning card readers.
He disclosed that he had also received calls from many other areas of Anambra that card readers were malfunctioning, expressing his worry over the development.
Obi said that it was unnecessary for the electoral body to register 91 political parties and listed them on the ballot paper.
"All that should be done is to have not more than 12 political parties on the ballot paper, if INEC can do better during elections."
Obi, however, called on INEC to ensure that every eligible voter cast his vote, saying "disenfranchising any Nigerian on account of clumsy process will be a great disservice by the commission"