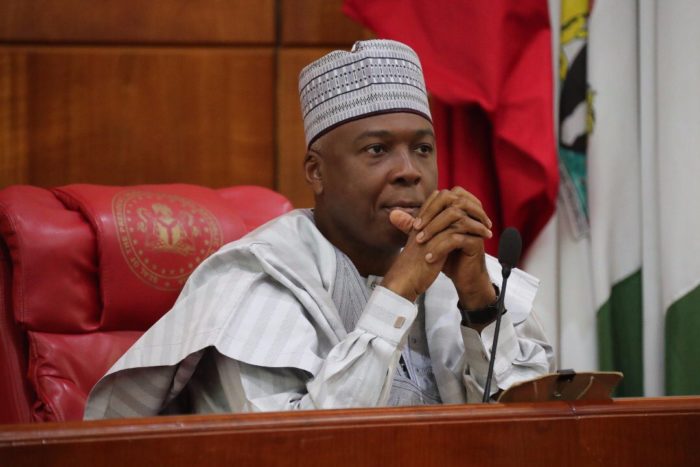 It is now official that Nigerian Senate President Bukola Saraki has lost his bid for re-election into the Senate.
Saraki candidate of opposition Peoples Democratic Party (PDP) in Kwara Central was defeated by Dr. Ibrahim Yahaya Oloriegbe of the All Progressives Congress (APC).
Oloriegbe who is now the nemesis of Saraki, once ran against him in 2011 and believed his victory was stolen by then powerful 'Governor Bukola Saraki'.
Oloriegbe, a medical doctor like Saraki, polled a total of 123, 808 votes to defeat Saraki who scored 68, 994 votes in the four local governments of Kwara Central Senatorial District.
The result of the election was announced by the Senatorial District Returning Officer, Prof Olatunbosun Owoyomi from the University of Ilorin.
In Asa local government, Oloriegbe polled a total of 15, 932 votes to defeat Saraki that scored 11, 252 votes.
The APC candidate also got 30, 014 votes in Ilorin East local government to 14, 654 polled by his PDP rival in the Senatorial race.
In Ilorin West, stronghold of Sen. Saraki, Oloriegbe polled 51, 531 votes to defeat the senate president with 30, 075 votes.
The situation was the same in Ilorin South where the APC candidate floored the Senate President with 26, 331 votes as against 13, 031 votes garnered by Saraki.
Oloriegbe, was a member of the Action Congress of Nigeria (ACN) when he ran against Saraki in 2011 . In his campaign bio-sketch, Oloriegbe believed he was robbed by the court, against 'the wishes of many Kwarans".
After the loss, he remains one of the few men standing against the reign and style of Saraki's regime in Kwara.
He was the majority leader at the Kwara State House of Assembly between 1999 – 2003.
Oloriegbe was born in Ilorin by parents with Ilorin pedigree, an important factor that underlined the campaign in the state.
He attended Ahmadu Bello University in Zaria, where he studied medicine and has had a wide practice both locally and internationally.
As Senator-elect, he has promised to make a difference in his senatorial district:
"In the past 15 years, our society has been in the grip of people who do not share our common values and heritage.
"They are dealers whose concerns are at variance with the people's aspirations. They are leaders with inordinate appetite for wealth acquisition. They are political voyagers and power merchants. They don't share our Islamic values and culture of leadership being a trust that will be accounted for to Allah the Creator of the universe. Hence they cannot give what they don't have''
Saraki, son of maverick politician and strong man of Kwara politics, late Mr. Olusola Saraki, was a two time governor of Kwara before going to the senate in 2011 on the platform of PDP.
He defected from PDP to APC in 2014 and returned as senator. He became senate president in 2015 and fell out with his party, APC. He defected again from APC to PDP late last year.