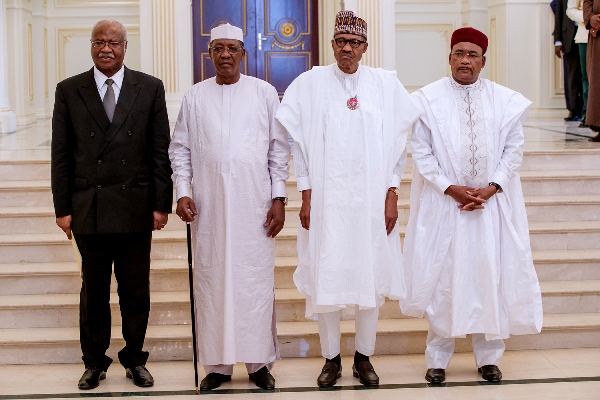 By Mohammed Momoh
Nigeria's Lake Chad Basin sharing interest with Chad, Niger, Cameroon, Libya, Algeria, Sudan and Central African Republic, has received World Bank's $346 million to help strengthen its resilience and livelihoods amidst hunger, poverty and pestilence.
The approval is in partnership with the International Development Association (IDA) to reverse the calamity that had befallen the Lake Chad region caused by rampaging Boko Haram fighters.
The bank, in a statement on May 27, 2020, in Abuja said the fund would be shared among Cameroon, Chad, Niger and Nigeria for the overall to rescue the poor economy of the region.
It said there were significant gaps in infrastructure, access to basic services was poor, and natural resources and livelihoods were severely impacted by climate change and the situation was exacerbated by insecurity prevailing since 2009.
According to the bank, this is due to insurgent activities that prevented more than 49 million people from attaining their livelihoods in fishing, livestock farming and agriculture.
Lake Chad Basin is comprised of seven countries grouped around it, of which four – Nigeria, Niger, Chad and Cameroon – are in direct contact with the lake from where they sustain their agricultural and food needs.
Aside the activities of insurgents that have resulted in the death of over 39,000 people in Nigerian alone since 2009, the adverse effects of climate change have added to the suffering of the people in the region.
The people have to contend with poverty, and degradation caused by their inability to harvest the full benefits of Lake Chad which had been their main source of sustenance and livelihood.
According to the Food and Agricultural Organisation (FAO), aside the irrigation and agricultural benefits of Lake Chad Basin, it also provides access to aquaculture and potable water for both human and livestock.
However, in 47 years, Lake Chad Basin has shrunk from 25,000 square kilometres to 2,000 square kilometres; it is now 10 per cent of what it was 47 years ago aside the Boko Haram insurgency that had decimated the region.
The fighters of the Islamic State of West Africa Province IISWAP) have added to make life unbearable.
Aside the destruction to economic and social infrastructure in the unending war, had caused 39,000 deaths since 2009 and displaced more than 10 million people, including two million Nigerians.
The fighters have occupied a large portion of the Lake Chad region, making it difficult for agricultural and fishing activities and hampering economic and social activities.
Mr Stephen O'Brien, former UN Under-Secretary-General for Humanitarian Affairs, told a Security Council, that millions of people were in need of urgent food aid in the region.
Boko Haram's campaign "is as much or now even more a humanitarian catastrophe'' as climate change has added to the collateral damage, he said.
President Muhammadu Buhari of Nigeria and his Chadian counterpart, Idrissa Deby, have confirmed the reduction of the potency of the insurgents but climate change had become a bone in the neck.
Buhari reported that Lake Chad Basin, which used to be a region of food security and wealth for an estimated 40 million citizens, had shrunk from its original size due to climate change.
Buhari said Nigeria and the neighbouring countries have decided to recharge Lake Chad through the diversion of rivers in the Congo Basin to empty their waters into the lake.
The Director General, Nigeria's National Agency for the Great Green Wall, Dr Bukar Hassan, said that the countries are working on a joint trans-border agro ecosystem project aimed at the restoration of livelihoods and rehabilitation of the Lake Chad Basin.
He also reported that US Agency for International Development (USAID) has provided $206.2 million to support the humanitarian response in the Lake Chad Basin.
Mr Mamman Nuhu, the Executive Secretary of Lake Chad Basin Commission, told Nation Media Group in Abuja that, "we are losing a lot of plant life and animals, including fish species. Farmers, herders and fishermen have lost their livelihoods. It's a real crisis for us.''
Nuhu, who is also Head of Mission of the Multinational Joint Task Force, also reported that some territories have been recovered from insurgents and now "Boko Haram is only in a few places around Lake Chad, but it still has capacity to cause harm.''
Displaced people in neighbouring countries are returning voluntarily and were being reintegrated them into their communities.
A lot of reconstruction is going on—schools and marketplaces are being rebuilt, and civil authorities are gradually going back to the places that are safe.
He said a regional stabilisation strategy crafted in 2018 by the Commission, with the assistance of AU and UNDP) is in place to boost education and skills acquisition, socio-economic recovery, environmental sustainability, and empowerment and inclusion of women.
The AU also launched a campaign, "Silencing the Guns by 2020" designed to sustained pressure on Boko Haram, along with interventions that address the root causes of the problems in the Lake Chad Basin.
"If we address the developmental issues, we will be able to silence the guns.''
He said that drought-resistant crops have been introduced and new farming techniques put in place to enable farmers to use water more efficiently.
"The cordial relationship among countries of the Lake Chad region should continue. We also need the support of the international community so that we can mobilise the needed funding for these interventions,'' he said.