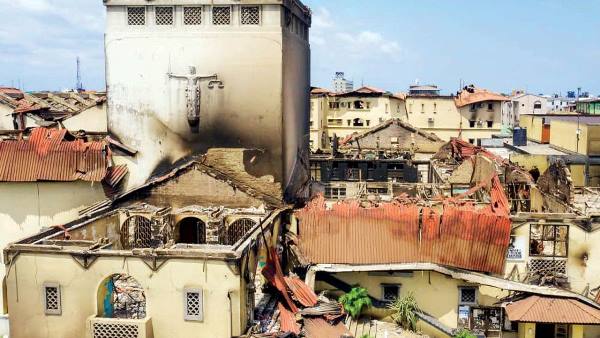 Mohammed Momoh
Worried by refusal of police personnel to resume normal duties, Nigeria has released stocks on the protests against police brutality, reporting deaths of 73 persons, including 22 police officers.
At least 1,596 suspects have been arrested in 36 states and Abuja in the #ENDSARS protests which started October 8, 2020 in Lagos and spread to many other states.
Many of the arrests were made by officers of the Nigerian Navy Ship (NNS) BEECROFT, and the military.
At a virtual conference with senior police officers on October 30, 2020, the Inspector General of Police (IGP), Mr Mohammed Adamu, confirmed that 51 civilians and 22 police personnel were killed and 37 civilian and 26 police injured.
The states most hit by violence and destruction, he said, were Lagos, Edo, Delta, Oyo, Kano, Plateau, Osun, Ondo, Ogun, Rivers, Abia, Imo, and Ekiti as well as Abuja.
"In total, 71 public warehouses and 248 privately owned stores were looted in the course of the protests nationwide.
"Furthermore, 205 critical national security assets, corporate facilities and private property were attacked, burnt or vandalised.''
Police Service Commission (PSC) is worried over refusal of some policemen to return to their duty posts in the aftermath of the #EndSARS protests.
The protests which were reported to have been hijacked by hoodlums led to looting and killing of persons and burning of more than 70 police stations as well as stealing of arms and ammunition.
The two week long rage and violence is reported to have demoralised the police and the trauma has made the policing unattractive as Nigerians now sleep with their eyes open.
The danger posed by the situation has forced the PSC to prescribe dismissal for any officer that deserted his job.
Admonishing police officer to put the killing of their colleagues behind them, PSC spokesperson, Mr Ikechukwu Ani, said on October 31, 2020 that policemen did not deserve to be killed and should in fact be protected as fellow human beings.
He warned, however, that the attack on police personnel by hoodlums should not be an excuse for them to stay away from work.
Ani stressed that the attacks on the police were not good for the country "because when you make Nigeria lawless and ungovernable, there would be a situation where nobody would be able to control".
"The police as public servants are guided by the rules; so, they cannot on their own say they won't go to work. Although, the Police Service Commission is also working to make sure they are protected because they are human beings; their lives also matter," Ani stated.
Cautioned against further attacks on law enforcement agents, he said: "It would be an ill-wind that blows nobody any good but it is not a reason for anybody to say he won't go to work. If you don't go to work, the Public Service Rules will take its course."
Reports across the country reveals that riot policemen had also failed to respond to incidents of looting and vandalism in defiance of the directive by IGP.
A police officer, who spoke on condition of anonymity, told NMG in Abuja that they fear for their lives and that their security was not guaranteed and they had to stay out for now.