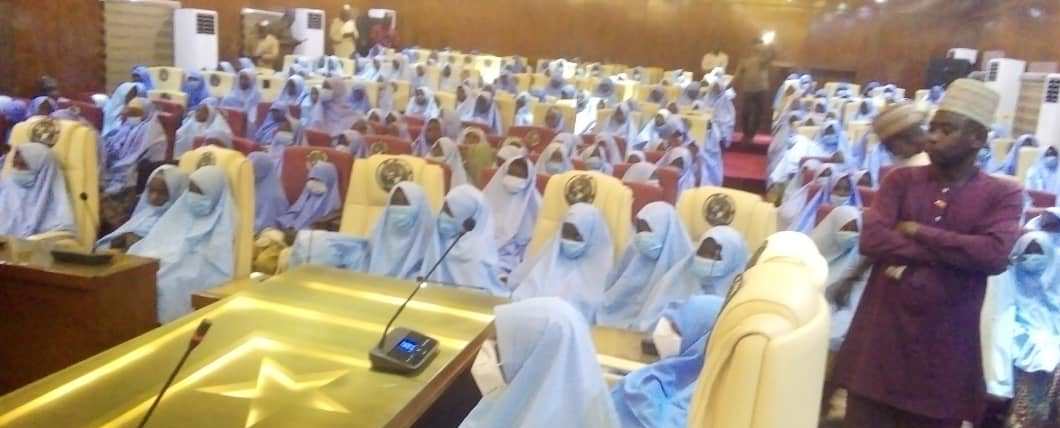 Tanko Mohammed
Six days after their abduction by bandits, the 317 schoolgirls of Government Secondary School, Jangebe , Zamfara in northwest Nigeria, have been released as Catholic pontiff, Pope Francis, joins others to condemns mistreatment of children.
In a tweet early Tuesday, March 2, 2021, Governor Bello Matawalle of Zamfara state stated: "Alhamdulillah! It gladdens my heart to announce the release of the abducted students of GGSS Jangebe from captivity.''
" This follows the scaling of several hurdles laid against our efforts. I enjoin all well-meaning Nigerians to rejoice with us as our daughters are now safe.
Seven out of the 317 female students had escaped from the bandits while trekking along the forest.
The students were abducted at about 1 am on Friday, February 26, 2021 in their hostel barely 11 days after 27 schoolboys, three teachers and some 12 people were abducted in Kagara in Niger state.
The schoolboys of Government Science School, Kagara were released on Saturday, February 27, 2021 just as the 300 schoolboys of Government Science Secondary Schools in Kankara, Katsina State abducted on December 11, 2020 but were rescued less than three days after negotiation with bandits.
Zamfara government on Tuesday, March 2 , 2021, confirmed the release of the schoolgirls of Government Secondary School in Jangebe, Zamfara State.
The abduction caused global uproar as the Chairman of the council and Emir of Anka, in Zamfara, Alhaji Attahiru Ahmad, stated when he led members of the council to sympathize with governor Bello Matawalle earlier on Sunday.
"We are here to express our sympathy over the abduction of our children and as the representatives of the people, we are seriously disturbed by the development which we know is not your fault.
"What happened is a tragedy to the whole nation even though it is not the first but fifth after what happened in Chibok, Dapchi, Kankara and Kagara of Borno, Yobe, Katsina and Niger states.
Also the National Council of Women Societies (NCWS) has appealed to the Federal Government to put an end to the frequent kidnapping of schools children which has become a menace.
Mrs Laraba Shoda, National President of NCWS, condemned the abductions and stated that such was not good for the education of children.
"The attack on school children, particularly on girls, is targeted at demoralizing not only the girl-child, but also others from accessing education.
"We hereby demand that just as the government rescued the schoolboys at Kankara in Katsina and the Dapchi schoolgirls in Yobe, it should, in the same vein, rescue the Zamfara schoolgirls in the quickest time possible,'' she said.
Recall that Boko Haram terrorists, introduced the abduction and killing of students when on February 14, 2014, they abducted more than 276 schoolgirls at Government Science Secondary School in Chibok, Borno state.
Some of the students were rescued in 2017 while others have not been recovered till date.
Four years after, gunmen hit Government Girls' Science and Technical College, Dapchi, Yobe State, and abducted 119 schoolgirls, who were also recovered except on, Leigh Sharibu, who bluntly refused to convert to Islam.
President Muhammadu Buhari had last week, ordered the military to flush out bandits and also declared that government was not receptive to granting the criminals amnesty.
President Buhari promised on March 1, 2021 that bandits, criminals and kidnappers will continue to be dealt with by security agents.
"Criminals are criminals and should be dealt with accordingly, without resorting to ethnic profiling. I have already tasked the new Service Chiefs to devise new strategies that will end this ugly situation where the lives of our people continue to be threatened by hoodlums and criminals."
President Buhari has assured Nigerians the abduction of female students from Government Girls Science Secondary School, Jangebe, will be the last to happen.
The president's statement was relayed through Minister of Aviation, Mr. Hadi Sirika, who led a high-powered federal government delegation to sympathise with the people and government of Zamfara.
He said new measures had been developed by the federal government which would bring complete end to all forms of criminality in the nation.
The Nigerian Guild of Editors (NGE) also condemns the incessant abduction of students by bandits in parts of the country.
The Guild is worried that, the spate of abductions, if not checked, could discourage parents from sending their children to school and thereby lead to a further increase in the number of out-of-school children in Nigeria.
"We strongly believe that children have the right to education and schools should be made safe for them to learn therefore, a comprehensive security plan should be put in place by all levels of government to prevent further abductions of students. Going to school to acquire knowledge is not a crime.''
The Guild called on the Nigerian government to urgently revisit the Safe School Initiative, with a view to implementing it for the benefit of Nigerian children.
The body of editors believes that dialogue and amnesty for bandits have not been positively impactful and therefore, it should be discouraged.
The Guild aligns with the advice of President Muhammadu Buhari to state governors, to stop giving cash and other materials, such as vehicles to bandits, because such overtures could empower them to carry out more abductions.
Pope Francis on Sunday, Februar 28, 2021, in his weekly Sunday Angelus address to the Catholic faithful on Saint Peter's Square in the Vatican, said: "I join the bishops of Nigeria in condemning this vile abduction of 317 young girls."
"Let us pray for these girls, so that they may return home quickly."