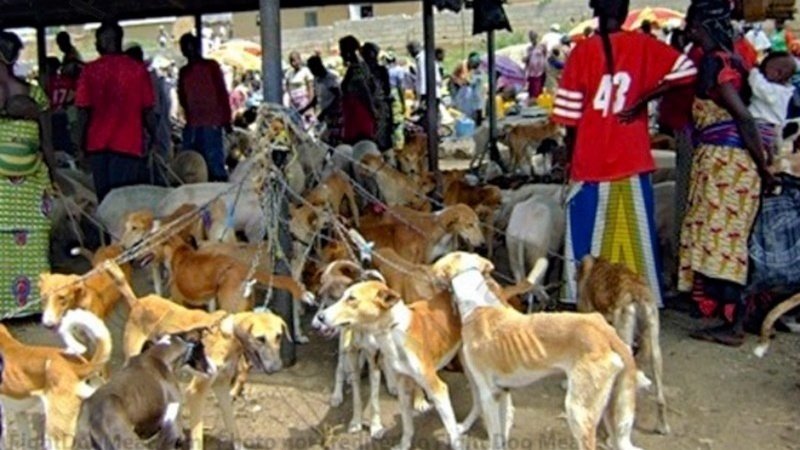 Tanko Mohammed
Dogs, the domestic animals many cherish so much as pets in many places in the world, are the same many cherish as delicacy in some other parts of the world.
While many dress and provide for the welfare of dogs and see them as companions, some others take them to the slaughter slabs as sumptuous meal.
Dog meat is becoming increasingly popular in different parts of Nigeria. People in oil rich Akwa Ibom state see dog meat as special, giving it the nickname of "404''. In many places, dog meat goes with palm wine (local brew from palm trees).
Dogs are consumed in parts of Lagos, Anambra, Enugu, Ebonyi, Imo, Ondo, Akwa Ibom, Cross River, Plateau, Bauchi, Taraba, Nasarawa, and Gombe states and parts of Federal Capital Territory (FCT) in Nigeria.
It is also prepared with cassava flake (garri) or yam flake (pounded yam) and it is also seen as medicinal for sick persons and also as sex enhancer.
Growing demand has made trading in dog meat profitable, to the extent importing dogs from neighbouring countries of Niger and Chad Republics.
The prosperousness of trading in dog meat has attracted many women in Tafawa Balewa town of Bauchi State to venture into the trade to compete with men who had dominated the brisk business.
They said dog meat selling was exclusively reserved for the men-folk in the past but it had now become an 'all-embracing' trade for both men and women.
Mrs Lucy John, one of the butchers, said some women decided to take to the trade because their male counterparts were gradually abandoning it and venturing into other trades.
She said that dog meat, being a delicacy in the area, was fast becoming a scarce commodity in the market because the male butchers were gradually abandoning the business.
John said the neglect of the business by men had opened up an opportunity for women, not just to prepare and sell dog meat, but also breed and market the animal, especially because of the lucrative nature of the business.
"Selling dog meat is the best as people in the community love eating the meat,'' she said.
Madam Kyauta Illiya, a consumer of dog meat, explained that the delicacy had a unique taste as such she preferred it over any other meat.
She said dog meat had become a favourite cuisine among some people of the area, and had value.
Mr Isiaku Gambo, another consumer, claimed that dog meat had medicinal effect as it could serve as cure for some diseases and serves as antidote to some diseases.
Mr Anthony Aloysious, from Anambra state, said dog meat, 'improves sex life' and it protects from avoidable diseases.
Another dog-meat eater, Mr Chukwu Chinedu, said he was introduced to the cuisine as a cure for malaria.
"People who eat dog meat have no business with malaria," he said.
Medical opinion, however, seems to differ just as many people despise the attitude of eating dog meat.
.
Dr Desmond Ogbodo, a private medical practitioner in Abuja, said: "Dog meat, to the best of my knowledge, is not any different from any other meat.
"The claim that it cures malaria and boost sex is definitely not true. It cannot be true either that it boosts human immunity," he said.
Mr Anthony Nnkwo, from the East of Nigeria, said that eating dog meat is a question of culture.
Mr Sumaila Nicholas said in Abuja on March 4, 2021 said that believe that dog meat cures diseases and protects against charms were superstition.
He explained that those who eat dog only use those excuses to convince themselves that they were doing the right thing.
Mrs Felicia Adeola said: "I cannot eat dog meat because dogs are like pets and they help in homes as companions and security."
Religious leaders are divided over their stand on dog meat, except idol worshippers that are explicit that dogs are slaughtered and ate as part of sacrifices for their gods.
A Muslim Cleric in Abuja, Mr Sanusi Ismail, said that there were two schools of thoughts over eating of dog meat. One forbids it and describes it as haram while another says it is allowed, halal.
He explained that the haram school had a better argument, specifying that, "it is not permissible to eat dogs, or to give them to people who will eat them, because it is haram to eat them or to help anyone else to eat them''.
Reporting the quote of Prophet Mohammed, he said: "Every animal that has fangs is haram", "The Messenger of Allaah (peace and blessings of Allaah be upon him) forbade the eating of every carnivorous animal that has fangs."
Rev. Christ John of Church of Flowing Miracle in Abuja, said Christians were at liberty to eat dog among other meat.
Quoting Genesis in the Bible, God said," Every moving thing that lives shall be food for you; and just as I gave you the green plants, I give you everything. Only, you shall not eat flesh with its life, that is, its blood.''
Mr Anthony Osariemen, a Worshipper of God of Iron, Ogun, said that dogs are slaughtered in times of ceremonies to cook for worshippers and used as sacrifice to the god of iron, especially in Bini in Edo state, Ondo town in Ondo state and in some other places in Nigeria.
But the World Animal Protection has described the killing and eating of dogs and other animals as cruelty and issued a damning report on its Ranking of Nigeria on its Animal Protection Index 2020
The report said that although Nigeria does not have stand-alone legislation regarding animal welfare, the Nigeria Criminal Code does include many prohibitions regarding animal cruelty, and the wording suggests some acknowledgment that animals can suffer both physically and mentally.
It expressed concern that there is no singular act to prevent animal cruelty or to promote animal welfare in Nigerian legislation.
"While the National Institute of Animal Science has a mandate to ensure a high quality of meat is produced, there is no reflection on the importance of animal welfare in producing high quality meat. Also of concern, is the existence of the dog meat trade in some parts of Nigeria which is a risk to both animal and human health given the prevalence of rabies in the country''.
It urged Government of Nigeria to introduce an independent Animal Welfare Act that includes a definition of animal welfare, in line with the World Organisation for Animal Health (OIE) and explicitly promoting the Five Freedoms.
The government, it urged to enact legislation detailing specific welfare requirements for the rearing of farm animals during the phases of rearing, transport and slaughter.
Ms Natasha Choolun of Change.org has also started a campaign against cruelty to dogs.
Choolun, in a petition to the government of Nigeria, said it is unfortunate that Nigeria's positive new image is tainted by the existence of a cruel dog meat trade which casts a negative shadow over Nigeria.
She said that dogs were companion animals and not food items and urged the government to implement existing laws against animal cruelty, maltreatment and neglect.
She urged the government to provide funding for trap, neuter and release programmes to prevent street dogs from breeding.
"All dogs should be vaccinated against rabies. Ban dog and cat meat in Nigeria and shut the trade down,'' she advised.