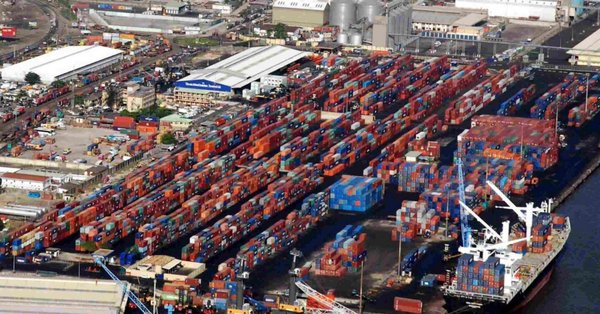 The Chairman, Dala Inland Dry Port (IDP) in Kano state, Abubakar Bawuro, says the management has so far spent over N5billion on its construction.
Bawuro made the disclosure during a visit on the Executive Secretary, Nigerian Shippers' Council (NSC), Mr Emmanuel Jime, on Tuesday, in Abuja.
The chairman said the project, which would be ready for inauguration in March, will further boost business relations between Nigeria and the Niger Republic.
According to him, over 80 per cent of work on the project had already been completed and the rest should be done by the end of February.
He said extensive work had been accomplished in key areas of the ports, including the stacking area of the sea ports containers, the warehouse, the administrative block, electricity supply and the access roads network.
"If you look at them and assess them averagely, we can safely claim that we have attained over 80 per cent completion.
"We want to assure you that we will work 24/7 to ensure that we achieve the goal of realising and commissioning the port by the end of March.
"The idea of the port is not just to limit its operation to Nigeria, but that through the rail link of Kano-Maradi, do more businesses in Niger and other neighbouring countries," he said.
Bawuro said the state government had spent about N2.7 billion, while private investors had taken over the completion of the warehouse, stacking area, administrative block, security arrangement and ICT, among others.
The chairman, who commended the efforts of the Minister of Transportation, Rotimi Amaechi, in the various sub-sectors of the project, appealed to him to attract President Muhammadu Buhari for the inauguration of the port.
While also recognising the efforts of NSC's Executive Secretary, the chairman appealed for more support from the council to achieve the essence of the port.
Responding, the NSC boss, Mr Emmanuel Jime pledged to render every necessary support to ensure the success of the Dala IDP.
"Not only will this project be viable and open up shipping trend in the whole of Northern Nigeria, but it will assist this country to become the maritime hub that we wish to be in the whole West African sub-region.
"The IDP will decongest the ports, make business more cost effective, among others.
"We will continue to be very robust in our engagement with you to allow for greater publicity, to enable people know you have such facility existing, so businesses will take advantage of it," he said.
He commended the Kano state government for its support to the project, while urging other state governments to take a cue and emulate the gesture.
The executive secretary urged the concessionaires to ensure good quality service, to ensure the viability of the port.