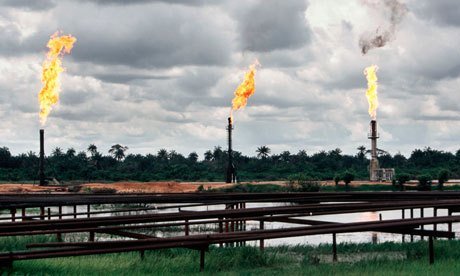 By Mohammed Momoh
Nigeria has witnessed a slight increase in natural gas reserve and a dip in crude oil as the country makes move to increase domestic consumption of Liquefied Natural Gas (LPG).
The natural gas reserve had become 203.16trillion cubic feet (tcf), while crude oil reserve is 36.89 billion barrels (bb) as at Jan. 1, 2020.
Mr Sarki Auwalu, Director of Department of Petroleum Resources (DPR), said on June 4, 2020 in an online interactive that there had been a marginal increase of 1.16tcf in proven natural gas reserves representing 0.57 per cent increase from previous 202tcf recorded on Jan. 1, 2019.
According to him, the DPR has set new targets of 210tcf by 2025 and 220tcf by 2030.
Crude oil reserves, he said, declined by 82 million barrels representing 0.22 percentage decrease when compared to the 36.97 billion barrels recorded during the same period in 2019.
He said the on-going bid for 57 marginal oil fields being conducted by the regulatory agency on behalf of Nigeria is to boost the full utilisation of the fields.
.
"These are fields that have been unutilised and we believe that this was overdue because the last time Nigeria did bid round for the marginal fields was in 2003.
"Between that time and now, a lot of professionals have come into the industry and some companies who were among the 24 successful companies are now considered oil producing companies.
" So, there is a lot of appetite to invest in Nigeria and the government also needs revenue because the benchmark for the 2020 budget has been revised to $27 per barrel."
The bidding, only for indigenous companies, he reported would help in boosting the Nigerian economy and also create jobs.
"The bidders were given awards and not licences, and they were to develop the fields within 10 years. Some of these companies failed to achieve the conditions for the awards. In 2013, they were granted an extension to 2015.
"Thereafter, another extension was granted to them till 2018 and they could not bring the field to production.
"Technically, the government is losing, so that is why they were brought back for bidding and it is an opportunity for the previous bidders to bid again and have another 10 years to develop them again."
Meanwhile, Nigeria has reported that its cylinder recirculation model is aimed at improving safety and reducing cost to increase usage of Liquefied Petroleum Gas (LPG), also known as cooking gas.
Ms Brenda Ataga, Project Coordinator of National Gas Expansion Programme, Office of the Minister of State for Petroleum, said on June 4 in a Webinar of stakeholders, that the model was part of the strategic framework for the implementation of the National Gas Policy.
"Government has taken a position that to increase the acceptability concept of the LPG, it will introduce into the market, the model known as the cylinder recirculation model.
"This is to eliminate the bulk cost of switching from kerosene and fossil fuel to LPG. So, the intention is to break that barrier with LPG cost, to make sure that the bulk cost to the end users who require switching is affordable.
"For most people, cost is a real issue. For most people, safety is a real issue, and that is what is being addressed by this strategy that was announced," Ataga said.
Also, Mr Dayo Adeshina, Programme Manager, National LPG Expansion and Implementation Plan, Office of the Vice President, noted that LPG penetration in Nigeria was still at five per cent.
Adeshina said Nigeria made a lot of progress in LPG consumption from about 70, 000MTPA in 2007 to over a million MT in 2019.
According to him, 60 per cent of the population use firewood for cooking, 30 per cent use kerosene, five per cent use charcoal while five per cent use LPG.
Adeshina said apart from household consumption, the government was also moving to increase LPG usage in areas such as agriculture, transportation and manufacturing
He said this would enable Nigeria to reduce CO2 emission by about 20 per cent and create about 450,000 direct jobs.
Adeshina noted that actualising the target would require infrastructure development, including establishment of 3,000 LPG plants, procurement of 10,000 trucks, 5,000 Bridgers as well as additional skids.
Mrs Audrey Joe-Ezigbo, President, Nigeria Gas Association, said increasing domestic utilisation of LPG was a difficult challenge that required collaboration between government, its agencies and the private investors.
She said LPG was one of the agents of economic transformation, stressing that this could be achieved through a broad LPG policy that protected investment in the sector.
Mr Nuhu Yakubu, President, Nigeria LPG Association, said the proper implementation of the National Gas Transportation Network Code (NGTNC) would help Nigeria realise its gas potential.
Yakubu said that transportation played a major part in deciding the price of LPG in Nigeria, hence cheaper transportation would translate to cheaper LPG, which would encourage more patronage.
He also called for increase in domestic supply of LPG to the domestic market from the Nigeria Liquefied Natural Gas Company and other oil majors in the country to meet rising demand of the product.
On his part, Mr Michael Kelly, Deputy Managing Director, World LPG Association (WLPGA) said the organisation would continue to support Nigeria's efforts to deepen LPG penetration.
Kelly said achieving the objective required clear government regulations and enforcement of such regulations, as well as provision of infrastructure to encourage investments in the sector.